Shadow of the Sword starring Coster-Waldau and Steven Berkoff is out on DVD in April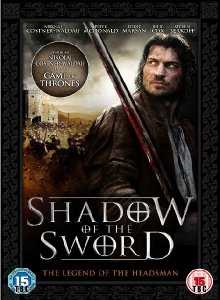 SHADOW OF THE SWORD
Out to rent and own on DVD 2nd April 2012
Fearsome swordplay abounds in this 16th Century epic as the loyalty of two life-long friends is tested during the notorious Inquisition.
SHADOW OF THE SWORD
, starring
Game of Thrones'
Nikolaj Coster-Waldau
(
Headhunters, Kingdom of Heaven
) and
Steven Berkoff
(
The Girl With The Dragon Tattoo,
TV's
The Borgias
), is out to rent and own on DVD (RRP £12.99) from the 2nd April.
Martin (Coster-Waldau) and friend Georg (Peter McDonald,
The Damned United
,
Wreckers
) grew up as orphans in a monastery. Their life long bond is tested when they follow different paths in life. After 15 years apart neither could have predicted the devastating circumstances which cause their lives to collide once more. When soldier Martin unwittingly becomes forced into the role of executioner, and local cleric Georg sentenced to death, Martin has to make a choice: will he be executioner orsaviourof his old fried?
Featuring a fantastic performance by Berkoff as The Inquisitor and full of bloody swordplay
SHADOW OF THE SWORD
is an epic tale of tested friendship and religious persecution told on a grand scale.
SHADOW OF THE SWORD
DVD Details:
RRP DVD/Blu-ray: £12.99
Certificate: 15 tbc
Aspect Ratio: 16:9
Director: Simon Aeby