Taylor Lautner stars in Abduction out on DVD and Blu-ray this February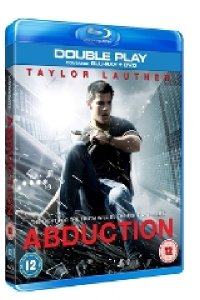 ABDUCTION
On Blu-ray & DVD Double Play, DVD and Download to Own and Rent February 13, 2012
TAYLOR LAUTNER (
The Twilight Saga
) stars as a young man whose secret past is set to collide with a dangerous reality.
ABDUCTION
, also stars SIGOURNEY WEAVER (
Avatar
) and LILY COLLINS (
Priest, Mirror Mirror
) and will be available to download, and to rent and buy on DVD and Blu-ray from 13th February 2012.
For as long as he can remember, Nathan Harper (Lautner) has had the uneasy feeling that he's living someone else's life. When he discovers an image of himself as a young boy on a missing persons website, all of Nathan's darkest fears come true - his life has been a carefully fabricated lie which hides something more dangerous than he could have ever imagined. Before his 'parents' can explain they are murdered and Nathan finds himself on the run.
Propelled on a lethal, no-holds barred mission to learn the truth, every second counts as Nathan and his friend Karen (Collins), aided by an undercover agent (Weaver), race to evade an army of assassins and federal operatives. But as his opponents close in, Nathan realizes that the only way to survive is to stop running and take matters into his own hands.
ABDUCTION Blu-ray & DVD Details:
· RRP DVD/BD: £19.99 / £24.99
· Certificate 12
· Special Features:
Pulled Punches
Gag Reel, Features:
Abduction Chronicle, Initiation of an Action
Hero
and
The Fight For The Truth
· Blu-ray Special: Abduction Application (a customisable in-film experience)