Tim Roth in final season of Lie to Me comes to DVD this January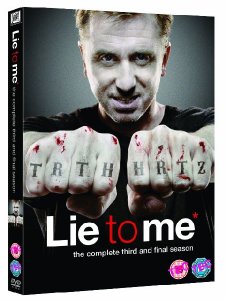 LIE TO ME: THE COMPLETE FINAL SEASON
"Lie to Me is utterly riveting at its best" -
Daily Mail, Weekend
"Critically Acclaimed Drama" -
TV Times
AVAILABLE ON DVD 9 JANUARY 2012
The original, addictive and truly compelling drama
Lie to Me
, spins its web of intrigue onto DVD one last time on 9 January 2012 with the release of
Lie to Me: The Complete Final Season
in a 4-disc box set from Twentieth Century Fox Home Entertainment.
Academy Award® nominee
Tim Roth
(
Reservoir Dogs, Pulp Fiction
)takes his iconic portrayal of Dr. Cal Lightman, the world's foremost expert on detecting lies and deception, to new levels as he breaks the rules, bears his soul and stops at nothing to expose the truth alongside his brilliant investigative team at The Lightman Group.
The thrilling third and final season of
Lie to Me
sees the Lightman Group take on their most intriguing cases to date, from museum heists and kidnappings to mysterious cults and murders. However, Lightman's unique skills are tested to the limit when applied to his own personal life, as a wedge is driven between Lightman and his colleague Dr. Gillian Foster (
Kelli Williams
;
Law and Order, Quantum Leap)
, creating devastating consequences for their future.
Lie to Me
features an all-star cast, led by Tim Roth and Kelli Williams, alongside
Brendan Hines
(
Terminator: The Sarah Connor Chronicles, Without a Trace
) as lead researcher Eli Locker and
Monica Raymund
(
Law & Order, The Fighter
) as Ria Torres, a protégé of Dr Lightman's, whose natural instincts round off the group's flawless abilities.
Own every exciting moment and complete your collection with the highly addictive 13 episodes of
Lie to Me,
also featuring exclusive deleted scenes and a fascinating In Character with Tim Roth feature.
Lie to Me: The Complete Final Season
is not to be missed, and that's the truth.
-ends-
Lie to Me Season 3 DVD Details:
Release date: 9 January 2012
Genre: Drama
Cert: 15
Price (RRP): £24.99
Special Features:
· 5 deleted scenes
· Fox Movie Channel Presents - In Character with Tim Roth