New Bedside Gadget for Football Fans from Hannspree
The HANNSsoccer Photo Alarm Clock is the ideal Christmas gift at only £19.99


Consumer electronics manufacturer and AV specialist,
 Hannspree
, has got the perfect Christmas gift for football fans. The 
HANNSsoccer Photo Alarm Clock
 (P.A.C) is an all-in-one bedside gadget featuring an alarm clock, a photo viewer and a music/radio player. At only £19.99 the HANNSsoccer PAC is a winning stocking filler.  
The fun, football inspired P.A.C. has a 360° design sporting the iconic black and white patchwork football leather pattern. It features a 4.3" colour LCD screen which can be set to a clock (digital or analogue), a calendar or a rolling photo display with the slide show function. The clock has 7 different face styles to choose from - you can even set a favourite photo as a background.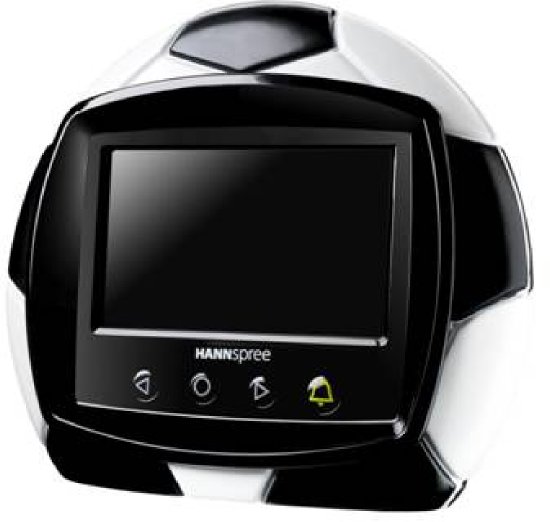 The HANNSsoccer includes alarm functionality with an all important snooze setting for those mornings when you need that extra 10 minutes. There are 3 alarm tones to choose from alternatively you can set your favourite music as an alarm tone. It also has a sleep function so that you can preset a time for the Photo Alarm Clock to switch off. Either, 10, 30, 60 or 90 minutes settings are provided so that you can relax and fall asleep gradually to your favourite music. 
In addition to your pre-recorded music, the HANNSsoccer Photo Alarm Clock also includes FM radio with storage for 25 preset 'favourite' FM frequencies which can be selected as the alarm audio. Transferring your favourite music and photos is simple! USB is included for fast, effortless file transfer. 
Get the digital box brimming with functionality, for that hard core football fan you know, from 
www.eu-shop.hannspree.com
 or the Hannspree Concept Store, Westfield London for only £19.99. 

HANNSsoccer Specification

Display: 4.3inch colour LCD screen (480 x 272)
Aspect Ratio: 16:9
Brightness: 200cd/m2 with auto dim
Speakers: 2x 1
WNAND Memory: Total 512MB (incl. System code)
Inputs: USB (Photo: JPG/BMP with slideshow. Audio: MPG3, WAV)
Outputs: Headphone
Calendar/Clock/AlarmFM Radio (25 Favourites storage)
Dimensions: 179.64 x 154.74 x 61.07mm