Pathe fun with Britain in Colour in the 1930s hits DVD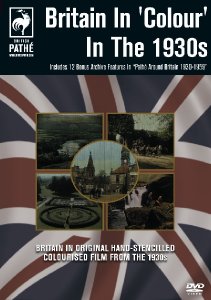 BRITAIN IN 'COLOUR' IN THE 1930s
Suggested Price: £14.99
Now available from Strike Force Entertainment - DVD history and nostalgia specialists - is the remarkable BRITAIN IN COLOUR IN THE 1930s, a fascinating DVD containing the full inventory of short hand-coloured features from the Pathé Pictorial archive.
Filmed and originally distributed in the 1930s, these reports were colourised using hand stencilling techniques and offer a fascinating glimpse into the natural beauty of Great Britain and how places have changed over time. Including films such as 'A Shropshire Gem, 'London's Lungs', 'Glimpses of York', 'In the West Country' and 'Lakeland Glimpses', to name but a few, BRITAIN IN COLOUR IN THE 1930s also features a newly constructed soundtrack using period recordings, making it a must for all those with an interest in the great British countryside of yesteryear.
Additional bonus features include 12 archive features in "Pathé Around Britain 1930-1959" such as, 'Melodies of the Motherland', a delightful short film shot across Great Britain, 'Hometown', a compilation of surviving episodes from the late 1950s showcasing towns and city centres such as Coventry, Wolverhampton, Liverpool, West Bromwich, Tamworth, Stoke, Stafford and Leicester. Also included is 'Canterbury', a short film showing some of the more unusual and less known parts of the historic city of Canterbury.
BRITAIN IN COLOUR IN THE 1930s is available from all good retailers, priced at £14.99.
For more information visit
www.strikeforcetv.com
or follow Strike Force Entertainment on
www.fbook.me/SFE
.