TV mini-series Ben Hur comes to DVD in January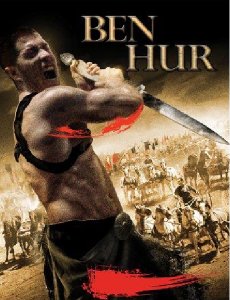 Rome
Made Him A Slave… Revenge Set Him Free
Ben Hur
The Epic Action-Packed Drama on DVD January 30
London
, UK
. 10/11/11 -
The sweeping historical adventure
Ben Hur
debuts on DVD January 30 from Sony Pictures Home Entertainment. Directed by Emmy® Award winner Steve Shill (TV's"Dexter"
)
andwritten by Alan Sharp, this is an epic re-imagining of one of the greatest stories ever told, based on the novel by Lew Wallace.
Taking the role of Ben-Hur is Joseph Morgan (
Alexander, Immortals
) who finds his lifelong friendship with Stephen Campbell Moore's (
The History Boys, The Bank Job)
Messala torn asunder. This spectacular drama also features special appearances from an array of stars including Ray Winstone (
Sexy Beast, The Departed)
as Arrius and Ben Cross (
Chariots of Fire, Star Trek
) as Emperor Tiberius. With stellar performances from Alex Kingston (TV's "Doctor Who",
Like Crazy
), Marc Warren (TV's "Hustle",
Wanted
), Emily VanCamp (TV's "Everwood",
Brothers and
Sisters) and Kristen Kreuk (TV's "Smallville"), this is an action-packed adaptation of the timeless story.
Ben Hur
will be available on DVD for £12.99 RRP.
Synopsis
In this new version of the colossal classic,
Ben Hur
delivers more action, passion and revenge than ever before. The gripping story follows two friends who become bitter enemies and the historic events of the time as told through the eyes of Judah Ben-Hur. Born a wealthy Jewish merchant's son, he is destined to live many lives: a powerful businessman, a dutiful slave, a fierce gladiator, a Roman nobleman, and finally... a conquering hero. This extraordinary adventure-filled saga is the historic epic for a new generation.
"Emmy®" is the trademark property of ATAS/NATAS.
DVD Special Features Include:
Ben Hur
has a run time of approximately 184 minutes and is rated 15.
PRODUCT INFORMATION
TITLE
BEN HUR
Release Date January 30, 2012
Format DVD RRP £12.99
Certificate 15
Genre TV
Running Time 184mins