Michael Portillo's documentary Great British Railway Journeys: Series 2 arrives on DVD this January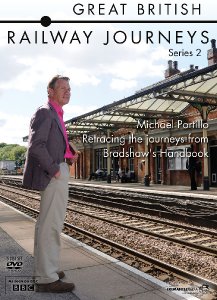 Former Minister of State for Transport
Michael Portillo
takes to the tracks in the BBC documentary TV series
Great British Railway Journeys: Series 2
, coming to
DVD
on
9th January 2012
as a
five-disc
collection featuring all
25 half-hour
episodes from the second series.
Passionate about trains, Michael Portillo embarks on five epic rail journeys, each split into five 'legs' or instalments, travelling the length and breadth of the UK as he retraces routes that were described in his original 1860s copy of Bradshaw's Railway Handbook. Along the way he witnesses all the things that have changed since the early days of rail transport and what of Bradshaw's Britain remains, discovering the effect the railways had on the public and finding out how the British love of trains all began.
Over the course of the five fascinating journeys - Brighton to Cromer (Brighton to Crystal Palace, Waterloo to Canary Wharf, Enfield to Cambridge, Ely to King's Lynn, Dereham to Cromer); Ledbury to Holyhead (Ledbury to Shrewsbury, Telford to Wrexham, Chester to Conway, Llanrwst to Porthmadog, Llanberis to Holyhead); Newcastle to Melton Mowbray (Newcastle to Chester-le-Street, Durham to Grosmont, York to Saltaire, Batley to Sheffield, Langley Mill to Melton Mowbray) London Bridge to Hastings (London Bridge to Chatham, Aylesford to Tunbridge Wells, Canterbury to Margate, Sandwich to Folkestone, Hythe to Hastings) and Ayr to Skye (Ayr to Paisley, Dumbarton to Tyndrum, Oban to Corrour, Roybridge to Glenfinnan, Lochailort to Skye) - Michael samples some classic Cromer crab, gets a rare chance to drive a heritage diesel and gets up close and personal with a pedigree Hereford bull. He also discovers a secret World War II chemical weapons plant at Rhydmwyn, takes a steam train across the beautiful North Yorkshire Moors, attempts to make an authentic Melton Mowbray pork pie, discovers how the railways turned cricket into a national sport and hunts for gold in Scotland's mountains, amongst other things.
An informative and entertaining series hosted by a uniquely enthusiastic guide with an obvious and infectious passion for the subject matter, Great British Railway Journeys makes for essential viewing for fans of series such as 'Coast', 'A Picture Of Britain', 'Great British Journeys' and 'Michael Palin's Great Railway Journeys'.
Great British Railway Journeys: Series 2
(cert. E) will be released on
DVD
(£39.99) by
FremantleMedia Enterprises
on
9th January 2012
.
Great British Railway Journeys: Series 1
(cert, E) is available to buy now.

Label:
FremantleMedia Enterprises
Release date:
9th January 2012
Release type:
DVD
Certificate:
E
Pricing:
£39.99
Genre:
Documentary, TV