Spend Christmas with ghosts courtesy of The Only Way is Essex and Most Haunted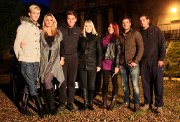 Ghosthunting With… The Only Way Is Essex
Most Haunted: Christmas Spirits
Both out on DVD 12th December 2011 (RRP £17.99)
A super scary festive season is guaranteed with these two new DVD releases!
Ghosthunting with… The Only Way is Essex
Ghost hunter extraordinaire Yvette Fielding has her work cut out for her when she takes six members of the hit TV series '
The Only Way Is Essex'
on a paranormal adventure. Mark, Arge, Joey, Harry, Amy and Sam are thrown into a ghostly world that will give them nightmares for the rest of their lives and there's not a vajazzle in sight!
Yvette and these plucky ghost hunters investigate warrens of dark foreboding tunnels and rooms that house the darkest of entities in deepest, darkest Essex. Yvette's animated guests are fearful to begin with but when they are witness to an evil entity that is determined to physically harm them; our much tanned stars turn a lighter shade of pale.
Taken away from their usual life of glamour and pampering how will they cope? Will any of them be brave enough to venture off on their own? And will the whole team be able to make it through the night? Laughs, screams and frights galore in this chilling Ghost Hunting Special!
Most Haunted: Christmas Spirits
Yvette Fielding and the team are back in an all new, unseen adventure! This Christmas the '
Most Haunted'
investigators will take you on a seasonal, supernatural adventure like no other. Alone and in the dark they experience their worst nightmare yet as they try to find out who (or what) is haunting a spooky manor.
On a mission to capture paranormal evidence of things that go bump in the night, the team will find themselves pushed to the very limits. Have they gone too far this time?
Get set for scares this Christmas…