Rebecca De Mornay stars in chiller Mother's Day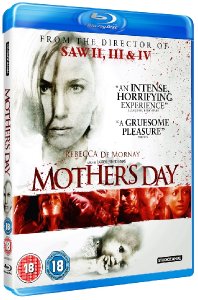 Loosely based on Charles Kaufman's 1980 Troma classic,
Mother's Day
sees
Rebecca De Mornay
(Wedding Crashers; Lords Of Dogtown) heading a killer cast in a role that makes her psychotic character from "The Hand That Rocks The Cradle" look like Mother Theresa.
Produced by
Brett Ratner
(the Rush Hour trilogy; X-Men: The Last Stand; Red Dragon), directed by
Darren Lynn Bousman
(Saw II, III and IV) and starring De Mornay,
Jaime King
(My Bloody Valentine; The Spirit),
Deborah Ann Woll
(True Blood),
Briana Evigan
(Burning Bright; Sorority Row; Step Up 2: The Streets) and
Shawn Ashmore
(Frozen; Hatchet II; the X-Men trilogy), this nail-biting thriller has been described as "intense" (Dread Central) and "relentlessly efficient… a cracking film" (Eye For Film).
Following a disastrous bank robbery attempt that leaves one of their number critically wounded, three brothers head for their childhood home to take refuge until the dust settles. What they don't know is their mother (De Mornay) recently lost possession of the house in a foreclosure and no longer lives there. Instead, they stumble across the new owners, a young couple, and their guests who are in the middle of birthday celebration. Seeing no alternative, the brothers take the partygoers hostage before contacting their mother to explain their dilemma. Willing to do anything to protect her offspring, mother arrives at the scene, along with her only daughter (Woll), and immediately takes control of the situation while masterminding a plan to help her family escape across the border from the US into Canada. Unfortunately for the hostages, mother's plot requires some serious funding and she's determined to get hold of it any way she can. So begins a long night of psychological terror in which loyalties are tested, secrets are revealed and sins are punished by a deeply disturbed woman with maternal instincts that can only be described as murderous.
Co-starring
Lyriq Bent
(Saw II, III and IV),
Kandyse McClure
(Battlestar Galactica),
Patrick John Flueger
(The 4400),
Warren Kole
(24) and
Matt O'Leary
(Sorority Row; Die Hard 4),
Mother's Day
is both "an intense, horrifying experience" (Alan Jones, Radio Times) and "a gruesome pleasure" (The Sun).
Mother's Day
(cert. 18) will be released on
DVD
(£15.99) and
Blu-ray
(£19.99) by
Studio Canal
on
24th October 2011
. Special Features include: interviews with stars Rebecca De Mornay, Jaime King, Patrick Flueger, Warren Kole, Briana Evigan, Matt O'Leary, Shawn Ashmore and Lyriq Bent, producer Richard Saperstein, executive producers Lloyd Kaufman and Charles Kaufman and stunt coordinator Bobby King; B roll footage; trailer; 2.0 Stereo and 5.1 Dolby Digital audio options; optional English subtitles for the hard of hearing.