Mafia feature The Dead List with Jean Reno comes to DVD this October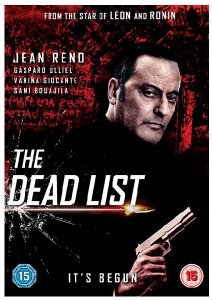 THE DEAD LIST
DVD Release date: 10th October 2011
Running Time: 95 Minutes DVD RRP: £15.99 / Cert: 15
IT'S BEGUN…
Starring JEAN RENO (LEON, RONIN, 22 BULLETS) as a patriarch of a violent criminal underworld,
THE DEAD LIST
weaves a powerful portrait of the inner machinations of the ruthless mafia with staggering magnitude.
Keeping his friends close and his enemies closer, Milo (Jean Reno) rules his clan with an iron fist and makes no mistakes, executing grand heists with impenetrable precision.
But things are about to change when his son and heir's loyalty is called into question. With enemies circling and federal agents closing in, Milo must pick his battles, between the son he loves and the men who want him dead.
Masterfully balancing the power struggles within the family and the sheer brutality of the world they inhabit, this explosive action-thriller is set to re-ignite the genre.