Action star Jason Statham stars in Blitz out on Blu-ray this September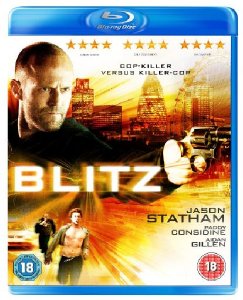 Blitz
DVD and Blu-ray Release 26th September 2011


Statham has never been better
David Edwards,
Daily Mirror
Cop-killer versus killer-cop…
Action super-star JASON STATHAM (
The Expendables, The Mechanic
) is an unconventional cop on the trail of a cop-killer in the explosive
BLITZ
. On DVD and Blu-ray from 26th September.
STATHAM heads up a British all star cast, including PADDY CONSIDINE (
The Bourne Ultimatum, Submarine
), AIDAN GILLEN (TV's
The Wire
and
Game of Thrones
) and DAVID MORRISSEY (TV's
Red Riding
) in this uncompromising thriller set on the streets of London and based on the book by acclaimed crime writer Ken Bruen.
Detective Tom Brant (Statham) is a tough un-PC cop on a mission to take down a serial killer who has been targeting London policemen. Nicknamed 'The Blitz' the vicious psychopath is picking off officers from a burnt out division and Brant - partnered with an unlikely accomplice in Considine's Sgt Porter Nash - is the only cop left on the block mean enough to take him out.
BLITZ
DVD & Blu-ray Details:
· RRP DVD/BD: £17.99/£22.99
· Certificate 18
· Audio Dolby Digital 5.1 Surround
· Aspecct Ratio Anamorphic 2.35:1
· Subtitles English for the Hearing Impaired
· Special Feature Deleted Scenes