World War 2 epic The Bomber comes to DVD this September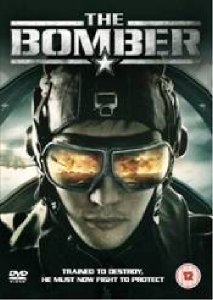 The Bomber
Nikia Efremoy / Ekaterina Astahova
Nina Usatova / Vladimir Lliin
NEW RUSSIAN WORLD WAR 2 EPIC BASED ON A TRUE STORY
RELEASED ON DVD 12TH SEPTEMBER 2011 (RRP £14.99)
Director: Vitaliy Vorobiov, Written By Arkadiy Tigray and Produced by Victor Mirsky
Fans of World War 2 and high-octane action movies are going to love this new Russian film of air warfare, sabotage, heroism and betrayal. Written and produced in Russia, The Bomber is based on the memoirs of a WW2 Soviet pilot, which first appeared as a novel by writer Mikhail Veller.
Synopsis
In this high-budget all-action movie, a soviet aircraft crashes on Nazi-occupied territory. But the pilot and his beloved radio operator miraculously survive, along with the flight navigator, who ejected from the plane. It is now up to each of them to put their military training into action to escape the enemy forces. In the fight to get back to their own troops, they uncover an act of sabotage by a commanding officer, and are branded as traitors.
Technical Information
Film running Time: TBA
Picture format: 16x9 widescreen
Background
The Bomber was originally made as an 8 part TV series broadcast on Russia's largest channel in May this year, broadcasting across the nation. The film features leading roles showcasing a sample of the exciting new talent to emerge from Russia: Nikita Efremov (son of Mikhail Efremov,) and Ekaterina Astakhova. Celebrated Russian artist Nina Usatovaa also stars.
The production features authentic World War 2 detail - cast and crew took extensive training on military science and flying courses to ensure the film truly featured authentic weaponry and accurate battle scenes. Especially for this project the film company constructed a TU2 warplane in its original size.
About Revolver Entertainment
Founded by Justin Marciano in 1997, Revolver Entertainment is one of the UK's leading independent all-rights film distribution companies with offices in London and Los Angeles. Revolver has won no less than 14 major awards from the entertainment industry for its creative initiatives in the last five years.
Revolver's multi-award winning marketing campaigns set the company apart from its competitors and has enabled Revolver to define itself by its dynamic move into new areas such as film production and highly successful simultaneous release strategies. The company recently set up its own production arm - Gunslinger, which has produced three films in its first 15 months:
Shank
, a top 10 UK box office hit in 2010,
Sket
, which is currently in post-production, and most recently
Anuvahood
, which has broken all previous box office records for Revolver, taking more than £2.1 million ($3.4 million) at UK cinemas since its release on 18 March.
Its most notable recent releases include Banksy's BAFTA and Oscar
®
nominated
Exit Through the Gift Shop
and French box office hit
Heartbreaker.
Revolver won two major awards at the 2010 Screen Distribution and Marketing Awards - Best Foreign Language Film of the Year Award for
Heartbreaker
and Best Premiere for
The Infidel
.
A pioneer in film distribution methods, Revolver was the first in the UK to release a live action digital 3D feature film -
U23D
, and the first to simultaneously release a UK title across cinemas, DVD, VOD, electronic rental and sell-through - the horror film
Mum & Dad
. It also released the first fully environment-friendly feature film in the UK.
Big River Man
being delivered to the market via digital means wherever possible.
Forthcoming releases include
Fire in Babylon
,
Knuckle
and
Ill Manors
directed by urban music sensation Plan B (a.k.a. Ben Drew). Other upcoming titles in the company's roster include the Stone Roses inspired
Spike Island
and Jon Hewitt's
X
.
www.revolvergroup.com
www.gunslingerfilms.com