Anime Review Roundup
Manga Entertainment Don't Give A Tweet About A New Licence
Usually you can rely on Twitter for Manga Entertainment's news, but this week it was an eagle-eyed customer who spotted a new licence up for pre-order on an e-tailer's website. Samurai Girls, the Complete Collection is to be released to UK audiences on November 21st 2011. Only the DVD is listed at the moment for pre-order, and Manga have said little, other than confirming that they are distributing it in the UK on behalf of Kaze (Professor Layton, and Vampire Knight). Word has come through from Kaze however that there will also be a Blu-ray release as well. It looks, to all intents and purposes, like Sekirei with swords. If you want to know what Sekirei is like, give me a few days and I'll have a review up for you.
Anime on Demand Announce The Rest Of Their Summer Lineup
It's still a work in progress, and they seem to have more than their fair share of teething troubles, but Anime on Demand's Spring Season turned up one or two real surprises, and naturally anticipation for their summer line-up has been intense, especially with Crunchyroll only streaming a third of their new titles to the UK this summer. Anime on Demand has already kicked summer off with the quite charming Bunny Drop. This week they revealed that joining it and Nura Rise of the Yokai Clan would be Dantalian, Twin Angel, R-15, and A Dark Rabbit Has Seven Lives.
Here's their press release, and the link to their site is to the right.
Quote:


Anime on Demand is pleased to offer you four brand new series, starting this week: Dantalian, Twin Angel, R-15, and A Dark Rabbit Has Seven Lives.

All these shows will go live over the next week with rapid catch up for missed episodes as soon as we have them.



Dantalian



British Lord Hugh Anthony Disward gets more than he bargained for when he inherits his late grandfather's mansion. He steps into the basement that holds his grandfather's private library only to meet Dalian, a pale girl who holds the key to the supernatural properties of the collection.

She allows him to step into Dantalian's Bookshelf: a collection of forbidden, demonic tomes. Genshou, "forbidden books", threaten the balance between good and evil in the world - yet people continue to use them, drawn in by their forbidden nature. Hugh and Dalian join forces on a quest to seek out the forbidden books in the world and contain their negative forces.



Twin Angel



Aoi Kannazuki and Haruka Minazuki are first-year high school students by day, crime-fighting magical girl duo "Twin Angels" by night. Expect light-hearted action with a generous helping of cute and a side of moe.



R-15



Some teenagers excel at football, some have an aptitude for science, and some are gifted painters. Takuto Akutagawa, however, writes great porn novels. Luckily there's a school for "unique" students like him: Hirameki Gakuen. Here he pursues his passion for porn while cooking up his ideal harem.



A Dark Rabbit Has Seven Lives



Sweet and a little bit saucy, this romantic fantasy follows the story of sixteen-year-old Kurogane Taito. As a child, Taito was incredibly good at karate but was forced to give it up after an injury, leaving him feeling decidedly ordinary. However, he is anything but ordinary.

Taito has forgotten a youthful encounter with the beguiling Vampiress Saitohimea that rendered him different from all his peers. Soon his memories of Saitohimea will return though, unlocking his powers…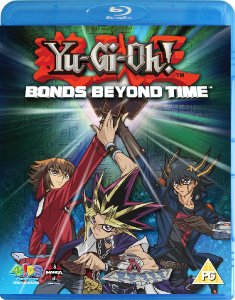 Two anime reviews this week although one of them makes me seethe. Anime, traditional anime that is, is supposed to be in two dimensions. The characters are flat. You get the odd 3D element now and again, but it's flat, like all cel acetate animation has always been. You paint 2D images onto a plane, whether it's a sheet of clear plastic or in the innards of a computer, and you animate the image. So what's the point of making it 3D!?! It's like colourising black and white movies! Utterly and completely pointless… Anyway, here's a review for
Yu-Gi-Oh! 3D: Bonds Beyond Time
on Blu-ray (only my Blu-ray player and TV aren't 3D compatible, so I watched the 2D version anyway). It's one of those kiddie card game anime. I'm not a kiddie…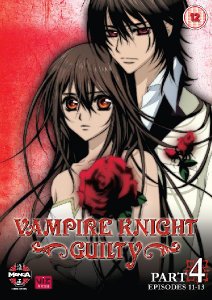 Then it was the turn of
Vampire Knight Guilty: Volume 4
, a show that I would be a whole lot more positive about, if I didn't just have to write about Yu-Gi-Oh. The series licenced from Kaze has had one of the most annoying DVD releases in a long time, balanced by being one of the few enjoyable moody, teen angst, vampire anime series that I have yet seen. In this disc of Vampire Knight Guilty, the story concludes, and unlike the average anime series, it's actually had the time and space to develop and present a really well thought out and enticing conclusion.
Manga Entertainment release Yu-Gi-Oh! 3D: Bonds Beyond Time on Blu-ray and DVD today. They'll release Vampire Knight Guilty: Volume 4 on DVD on Monday 8th August.