Danny Glover narrated Africa Unite out on DVD this August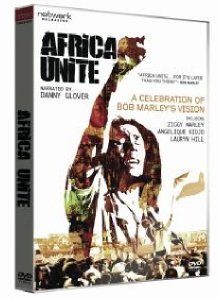 RELIVE THE SPIRIT OF BOB MARLEY AS DANNY GLOVER CHRONICLES
"AFRICA UNITE" (E)
Network Releasing is delighted to announce the UK availability of a unique multifaceted film about Africa, reggae and the Marley family narrated by Danny Glover and exec produced by the Hollywood actor and Rita Marley.

AFRICA UNITE is available from all good retailers on 22nd August 2011, RRP £12.99.
In commemoration of legendary reggae icon Bob's 60th birthday, AFRICA UNITE centres on the Marleys' first-time family visit to Ethiopia in 2005. In the capital city of Addis Ababa, three generations of the Marley family took part in a 12-hour concert attended by more than 300,000 people from around the world, with the ultimate purpose of inspiring Africa's youth to unite for the future of their continent.
AFRICA UNITE features exuberant on-stage spots, a soundtrack brimming with Bob Marley studio classics, and rare archive footage; it includes appearances by Ziggy and Rita Marley, Lauryn Hill, actor Danny Glover and world music sensation Angélique Kidjo (both UNICEF Goodwill Ambassadors), Bob Marley's mother Cedella Booker, and Princess Mary, granddaughter of Emperor Haile Selassie.
***ENDS***
NOTES TO EDITOR
AFRICA UNITE is a Network Releasing title
Release Date: 22nd August 2011
RRP: £12.99
Disc: 1
Total Running Time: 99 mins
(approx.)
Screen Ratio: 1.33:1 Colour
Cat. No.: 7953457