The Extraordinary Adventures of Adele Blanc-Sec comes to Blu-ray and DVD this August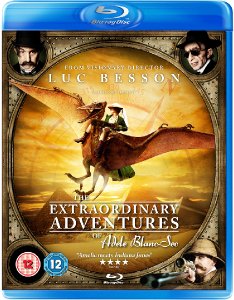 From the director of

The Fifth Element,
Leon & Joan of Arc
THE EXTRAORDINARY ADVENTURES OF ADELE BLANC-SEC
"Amelie meets Indiana Jones"
****
EMPIRE
"Besson's visuals are amazing... it's a truly unique
and wondrous experience"
****
THE SUN
"Viva Adele!"
****
DAILY MAIL
Adapted from the comic book series of Jacques Tardi
Directed by Luc Besson
Starring Louise Bourgoin, Mathieu Almaric
and Gilles Lellouche
Out To Own On DVD, BLURAY,
COLLECTORS EDITON DOUBLE PLAY & EST
August 15th, 2011
The year is 1912. Adèle Blanc-Sec (LOUISE BOURGOIN in her debut feature) an intrepid young reporter, will go to any lengths to achieve her aims, including sailing to Egypt to tackle mummies of all shapes and sizes.
Meanwhile, in Paris, it's panic stations! A 136 million-year old pterodactyl egg on a shelf in the natural history museum has mysteriously hatched, and the bird subjects the city to a reign of terror from the skies.
But nothing fazes Adèle Blanc-Sec, whose adventures reveal many more extraordinary surprises...
Extras:
Making Of / Cinemoi Interview with Luc Besson / Interviews with Luc Besson and Louise Bourgoin / In the Studio / Limited Collectors Edition Double Play Steelbook includes four artcards
DVD Tech specs:
Cert: 12 / Total running time: 103 mins / Region 2 / Feature Aspect Ratio: 2.35:1 / Colour PAL / Audio: Dolby Digital 5.1 & Stereo 2.0 / French language with English subtitles/ Cat No: OPTD1850 / RRP: £17.99
BLU-RAY Tech specs:
Cert: 12 / Total running time: 103 mins / Region B / Feature Aspect Ratio: 2.35:1 / Colour PAL / Video: BD50 / AVC / 24p / Feature Audio: DTS HD Master & Stereo 2.0 / Audio Codec: DTS MA + LPCM / French language with English subtitles/ Cat No: OPTD1850 / RRP: £22.99