Anime Review Roundup
UK Streamed Anime Update
I know I don't do as many of these as I used to, but there's so much anime in the world, and so little time. I have to pick and choose what it is that I watch.
But for those keeping an eye on the grand experiment, Anime on Demand, you should be aware that another series has made its debut this week, with the first episode of Deadman Wonderland. As we're a little behind the simulcasts, Anime on Demand ought to be offering a catch-up service over the next week, putting up all the delayed episodes in short succession. Deadman Wonderland joins C and Tiger and Bunny. That leaves three more shows to debut this season.
Quote:
Igarashi Ganta finds himself in prison after the Red Man kills his entire class leaving only him alive to take the blame for it. Ganta gets thrown into Deadman Wonderland a prison/amusement park where the prisoners provide the show for the audiences. Ganta is now to avenge his classmates and kill the Red Man even if it means digging into the dark and horrifying secrets of Deadman Wonderland.
Click on the link in the right column to get to the Anime on Demand site.
More exciting for me at least, is the arrival of Darker Than Black Season 2: Gemini of the Meteor. Funimation are now streaming the first four episodes of this to the UK via their
Youtube portal
. Manga Entertainment released the first season of Darker Than Black a few years ago, and it quickly became one of my favourite shows of that year. I've been on tenterhooks for this second season ever since it was announced in Japan.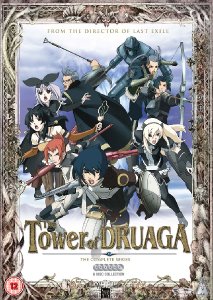 I reviewed eight discs worth of anime last week. Somehow that only equates to two reviews. I'm knackered, entertained to be sure, but knackered nonetheless. My first port of call was
The Tower Of Druaga
, which is being released in the UK in its entirety. It's an adaptation of an ancient arcade game, an RPG adventure that has a band of intrepid climbers battling to reach the top of the eponymous tower for fortune and glory. Of course our heroes are the most incompetent of the lot, a secretive priestess, a wet behind the ears kid, a down on his luck mage and his acerbic servant, and a former soldier. It's a delicious parody of the RPG genre, which while not as zany or madcap as the Slayers franchise, is often just as funny.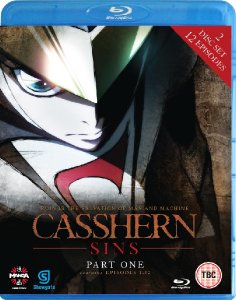 Next up it was the turn of
Casshern Sins: Part 1
. It's a modern retelling of an anime classic. Casshern has been on and off the screen, both big and small, several times since his debut back in 1973. This latest iteration of the saga comes from the other end, with an amnesiac Casshern waking up in a post apocalyptic world. It's a world on the verge of extinction, and he tries to find out what happened, how he can fit in when everyone wants him dead, little realising that he was the one responsible for the catastrophe in the first place. It's a beautiful work of art from Studio Madhouse, and I was fortunate enough to take a look at the Blu-ray release.
Both The Tower of Druaga from MVM, and Casshern Sins: Part 1 from Manga Entertainment, are released today.