Critically acclaimed drama Rabbit Hole with Nicole Kidman hits DVD in June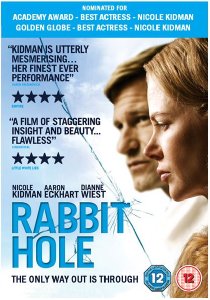 RABBIT HOLE
DVD Release date: 20th June 2011
RUNNING TIME: 87 Minutes DVD RRP: £19.99 / Cert: 12
Starring Golden Globe Award & Oscar Nominee
Nicole Kidman
RABBIT HOLE IS OUT ON DVD FOLLOWING ITS CRITICALLY ACCLAIMED CINEMA RUN
"Aaron Eckhart and Nicole Kidman burn up the screen…Glorious" - Esquire
"A moving and truly brilliant film" - Little White Lies
THE INDEPENDENT INFORMATION SUNDAY EXPRESS
DAILY TELEGRAPH DAILY EXPRESS
WOMAN CLOSER HEAT EMPIRE
LITTLE WHITE LIES TOTAL FILM ATTITUDE
Nominated for a Golden Globe and an Academy Award,
RABBIT HOLE
is a searingly powerful emotional tour de force, featuring a career-defining performance by Nicole Kidman.
Rabbit Hole tells the story of Becca and Howie Corbett, a married couple struggling to return to their everyday existence several months after the loss of their child. With their world tilted off of its axis, Becca and Howie embark on separate journeys, making increasingly unexpected choices that threaten to pull them apart. But as a series of events unfold that offer to bring new meaning into their lives, the couple must decide whether to allow their personal journeys to bring them back together.
Vivid, honest and frequently funny,
RABBIT HOLE
is a stunning portrait of a family searching for what can remain possible in the most impossible of situations.
EXTRA FEATURES
Cast and crew interviews
Behind the scenes featurettes