Action adventure flick Season of the Witch blasts onto Blu-ray and DVD in June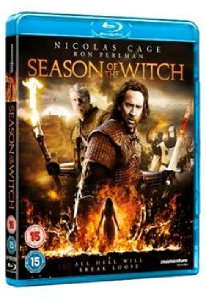 Season of the Witch
Available on DVD and Blu-ray from 27 June 2011
From the distributor that brought you the box-office-breaking
The Girl with the Dragon Tattoo
comes this supernatural action adventure starring
Nicolas Cage
as the knight charged with fighting the greatest evil known to man.
From one danger zone to another, a returning knight (
Nicolas Cage
) and his comrade (
Ron Perlman)
are thrust on a perilous and action-filled journey that will push them to their limits. As they uncover the dark secret of a cursed girl (
Clare Foy
) and engage in battle with a mighty and sinister force, the fate of the world rests in their hands.
EVIL LURKS CLOSE TO HOME
After years of brutal warfare in God's name, a heroic knight (
Nicolas Cage
) and his closest aide (
Ron Perlman
) return from the Crusades drained of their taste for bloodshed and disillusioned by the Church. The knight arrives to find his homeland shattered by the Black Death, and having returned from fighting prematurely, both men are apprehended and forced to embark upon a dangerous mission to avoid prison for desertion. The knight is instructed to take a prisoner of the church, an accused witch thought to be responsible for the Plague, to a monastery where she will undergo a ritual to free their lands of her curse. Fearing her to be a scapegoat, the knight agrees to accompany her. But their route is treacherous, taking them across sheer-walled gorges and into the punishing depths of wolf-infested forests, and as the knights fellow travellers begin to succumb, one-by-one, to misfortune, it becomes apparent that his most terrifying enemy yet is much closer to home.
Oscar®-winner
Nicolas Cage
(
Gone in 60 Seconds, Drive Angry 3D)
fronts a distinguished cast in this supernatural action adventure, with
Ron Perlman
(
Hellboy
) as his worthy co-star and
Claire Foy
(
The Promise
), who gives an outstanding performance as the troubled girl Anna. Joining them are
Robert Sheehan

,

Ulrich Thomsen, Stephen Campbell Moore,
and
Stephen Graham
as Cage and Perlman's fellow travellers, and
Christopher Lee
as Cardinal D'Ambroise.
The release includes a behind the scenes 'Making Of' feature and will be packaged in a premium eye-catching 3d lenticular O-card
RELEASE DATE: 27 JUNE
CERTIFICATE: 15