Channel 4 soap Brookside set to return on DVD in 2012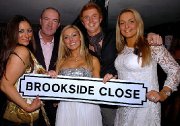 'Brookside Close looks to be back on our TV screens by next year, But via DVD only
Talks between programme creator Phil Redmond, Lime Pictures & Channel 4 have been taking place to discuss the possible release of a DVD in 2012, 30 years after the launch of the Channel 4 soap.
Channel 4's DVD label 4DVD have said they are happy with the suggestions from Brookside fans but want more to give an idea of what storylines they could put onto a 'Best of' DVD.
In December 2010 the petition with almost 6,000 fan signatures were sent out to Phil Redmond, Lime Pictures & Channel 4. This has now got the ball rolling with 4DVD and now the DVD is in 'early stages'.
Petition organiser Lee Brady said the development was a massive step forward for the campaign.
He said: "This is now good news that Brookside fans want to hear and will get what they want.
"As the leader of the campaign I knew not to give up. Fans of the soap always knew it should have never been axed and that it was wrong not to even consider the best soap in England to be released onto a DVD.
He said "Its shocking to some fans that Brookside is the only UK Soap to have never been released on a DVD showing classic storylines. Now hopefully this has changed.
Lee Brady of Liverpool & friend Danny Burton of Essex started the 'online petition' in 2007 & have done great work to get this far.
Brookside hit TV screens on November 2 1982, and became legendary for tackling gritty storylines.
It ran for 21 years and at the height of its popularity attracted eight million viewers.
Its ground-breaking storylines saw character Jimmy Corkhill as a drug dealer and failed teacher and suffer a mental breakdown after a marriage break-up.
There was also 'the kiss' - a lesbian embrace between Beth Jordache and Margaret Clemence that caused an outcry at the time.
But perhaps its more famous storyline was when Mandy Jordache, sick of being abused by her husband Trevor, killed him and buried him beneath the garden patio.
The resulting trial prompted placard-waving protesters to gather outside the offices of Mersey Television demanding justice for the Jordaches.
But Brookside also had very popular Characters & Family's such as Barry Grant & the Grant Family, Sinbad, The Dixons Family, Max Farnham & The Corkhills.
Lee added: "There really are loads of great nail-biting story lines that would make for excellent viewing all over again.
"It would be awesome if we could see the entire thing released gradually right from the very first episode."
Viewing figures eventually went into decline and the final episode was screened on November 4, 2003.
The Campaign has had a lot of Support from the casting such as, Dean Sullivan, Louis Emerik, Suzanne Collins, Anna Friel & Micheal Stark'
Channel 4 are yet to Confirm a DVD for next year as they have yet to go through some clearance issues.
Please send you Storyline suggestions to
jtrebor[at]ku.oc.reweiver.liam:143/fetch%3EUID%3E.INBOX%3E74451" target="_blank">www.BrooksideFans.com