Horror flicks Husk, We Are What We Are and The Unforgiven hit DVD and Blu-ray in March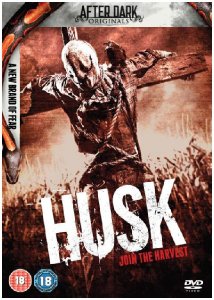 Husk
is a chilling-feature from the After Dark Originals brand, coming to
DVD & Blu-ray 21 March
after screening at the After Dark Original: Horrorfest Weekend March 4th-6th. Starring Wes Chatham (
W.)
and C.J Thomason (
Harper's Island
), and directed by Brett Simmons who has adapted the film from his own 2005 short,
Husk
is a gruesome tale and a real throwback to true 1960s creepiness.
Synopsis:
When a murder of crows smashes into their car windshield, a group of young friends are forced to abandon the vehicle, leaving them stranded beside a desolate cornfield. Hidden deep within the cornfield they find a crumbling farmhouse - but they soon discover that instead of a sanctuary, the house is actually the centre of a terrifying supernatural ritual that they are about to become a part of…
For more information about
After Dark Originals
and the
2011
After Dark Originals: Horrorfest
Weekend
please visit;
www.facebook.com/afterdarkoriginals.uk
RUN TIME: 80 mins
CERT: tbc
RRP: (DVD) £15.99 (BLU-RAY) £19.99
BARCODE: (DVD) 5060255690093 (BLU-RAY) 5060255690109
CAT NO: (DVD)G2P033 (BLU-RAY) G2PB033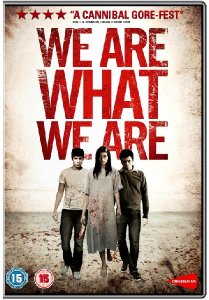 We Are What We Are
A middle-aged man dies in the street, leaving his widow and three children destitute. The devastated family is confronted not only with his loss but with a terrible challenge - how to survive. For they are cannibals. They have always existed on a diet of human flesh consumed in bloody ritual ceremonies... and the victims have always been provided by the father. Now that he is gone, who will hunt? Who will lead them? How will they sate their horrific hunger? The task falls to the eldest son, Alfredo, a teenage misfit who seems far from ready to accept the challenge... But without human meat the family will die.
Following its major theatrical release, shocking, bloody and deeply moving WE ARE WHAT WE ARE is a remarkable reinvention of the horror genre - a visceral and powerfully emotional portrait of a family bound by a terrible secret and driven by monstrous appetites.
RUNNING TIME 90 mins approx.
• CERT 15
DVD
• CAT NO CFDV020
• BARCODE 5021866020501
• RRP £15.99
BLU-RAY
• CAT NO CFBD021
• BARCODE 5021866021607
• RRP £19.99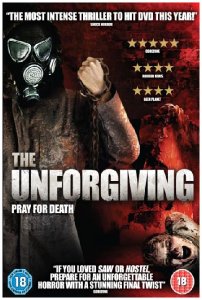 The Unforgiving
PRAY FOR DEATH
"If you loved SAW or HOSTEL, Prepare for an unforgettable Horror with a stunning Final twist"
-
GOREZONE
On the outskirts of Johannesburg, a spate of killings has plagued a desolate highway. With no leads and nowhere to turn, authorities focus all their attention when two survivors turn up alive. Caught in a labyrinth of an investigation, Detective Hirsch tries to piece the puzzle together through Alice, an ex-drug addict, and Rex, a traumatised victim.
What follows is a brutal account of what happened to these to survivors. Told in an unconventional narrative structure, The Unforgiving tosses and turns between points of views and character perceptions as the film builds to its terrifying climax. Crossing all moral boundaries, the film will leave the audience questioning what they would do to survive if their lives were in the hands of one of the most grotesque serial killers imaginable.
EXTRAS
Trailer
Behind the Scenes
RUN TIME: 80 mins approx
CERT: 18
CAT NO: DIG3833
BARCODE: 5034741383318
RRP: £15.99