British Royal Weddings of the 20th Century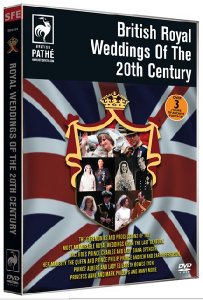 Strike Force
Entertainment / Cherry Red Records are proud to announce the release of
British Royal Weddings
Of The 20th Century
Available to own on DVD for the very first time from
4th April 2011
An ideal release to cover in time for
the Royal Wedding of the Year
Over 3 Hours of Archive Footage
Throughout the twentieth century, Royal Weddings were events of majestic splendour. People would camp out overnight in the streets of London to get a prime location for the procession the next day. They would gather in their thousands to garner a glimpse of the newly married couple on the balcony of Buckingham Palace. Street parties were held up and down the country in celebration - the extravagance, the splendour, the sheer pomp and pageantry all combined to make for extraordinary scenes of patriotic pride and national unity.
In this collection we relive all the major Royal Weddings of the Twentieth Century, seeing them just as the cinema audiences of the time would have experienced them. Join us in a comprehensive and nostalgic look back at some of the most memorable and extraordinary days, in not just royal history, but in the history of Britain.
DVD CONTENTS
1922 PRINCESS MARY
1922 LORD MOUNTBATTEN
1923 PRINCE ALBERT wed ELIZABETH BOWES-LYON
1934 DUKE OF KENT weds PRINCESS MARINA OF GREECE
1935 PRINCE HENRY, DUKE OF GLOUCESTER
1947 PRINCESS ELIZABETH weds PRINCE PHILIP
1960 PRINCESS MARGARET weds ANTONY ARMSTRONG-JONES
1961 PRINCE EDWARD DUKE OF KENT weds KATHERINE WORSLEY
1963 PRINCESS ALEXANDRA weds MR ANGUS OGILVY
1972 PRINCE RICHARD (DUKE OF GLOUCESTER) weds BIRGITTE VAN DEURS of DENMARK
1973 PRINCESS ANNE weds MARK PHILLIPS
1981 PRINCE CHARLES weds LADY DIANA SPENCER
1986 PRINCE ANDREW weds SARAH FERGUSON
DVD BONUS FEATURES
1960: LADY PAMELA MOUNTBATTEN marries weddings Mr David Wickes
1949: George Lascelles, 7th Earl of Harewood weds Miss Marion Stein
1960: Alternative report on Princess Margaret's Wedding
1947: and additional silent camera rushes of the wedding of Princess Elizabeth and Philip Mountbatten, Duke of Edinburgh
DVD DETAILS
Cat no: SN6695
Barcode:5013929669550
Running time: 181mins approx
Certificate: E
Price: £13.99
British Royal Weddings Of The 20th Century
distributed by Strike Force Entertainment / Cherry Red Records and is available the website below from 4th April 2011.