Classic romantic feature Brief Encounter comes to Blu-ray and DVD in February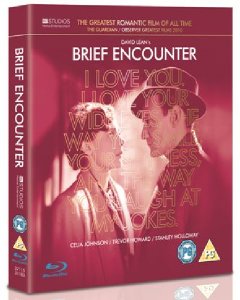 BRIEF ENCOUNTER
SPOIL THE ONE YOU LOVE THIS VALENTINE'S DAY WITH
'THE BEST ROMANTIC FILM OF ALL TIME'
AVAILABLE ON DVD AND BLU-RAY FROM 07 FEBRUARY 2011
Regularly appearing on lists of 'best films' and recently voted 'The Best Romanic Film of all Time' (The Guardian/Observer greatest films 2010),
Brief Encounter
is the perfect gift to give your loved one this Valentine's Day.
One of the finest romances ever produced in English cinematic history, the simple storyline of a married woman who meets a stranger and falls in love belies the intriguing complexities of matters of the heart.
Directed by the legendary
David Lean
and based on short story by
Noel Coward
, a master commentator on English manners, the film stars two of the cinema's most enduring screen icons,
Celia Johnson
and
Trevor Howard
.
So if you want a Valentine's Day that is filled with love, romance and a good few tears, then
Brief Encounter
is the one for you.
Synopsis
Brief Encounter
tells the story of strangers Laura Jesson (
Celia Johnson
) and Dr. Alec Harvey (
Trevor Howard
) whose lives are changed forever when they meet in a railway café in 1940's England. Laura lives a content but predictable life with her husband Fred (
Cyril Raymond
) and their children, but her life is suddenly turned upside when a chance meeting with a mysterious Doctor leads her to question everything she knows.
This heartbreaking tale follows Laura and Alec as their unlikely friendship develops and they begin to fall in love. As their feelings grow they embark on a secret affair which sees them meeting up every Thursday at the café where they first met, and enjoying outings to the cinema together. Eventually the couple seal their fate with a kiss, and although Laura is initially elated at her new found love she is also wracked with guilt for betraying her husband. The couple's relationship is cut short when Alec accepts a job abroad and Laura decides she must honour her marriage and return to her marital life. Laura returns to her life with Fred and although she is devastated at losing Alec she realises that her view on the world has changed, and that her life is all the better for their brief encounter.
~ Ends ~
Release information:
Available from: 07 February 2011
Credit: ITV STUDIOS Home Entertainment
Cert: PG
Running Time: 86 minutes
Extras: Documentary "A profile of Brief Encounter"
Stills gallery
Theatrical Trailer
Brief Encounter restoration featurette
Discs: 1
DVD RRP: £12.99
BLU-RAY RRP £19.99
Retail Cat. Number: DVD: 3711529983
Blu-ray: 3711531183
Retail Barcode: DVD: 5037115299833
Blu-ray: 5037115311832
Notes to Editor
About ITV STUDIOS Home Entertainment:
ITV STUDIOS Home Entertainment is the consumer label for DVD and Download to own content within ITV Studios Global Entertainment. It is the company behind one of the UK's most comprehensive film and video collections with over 3000 titles and is a major player in the UK and International Home Entertainment Market. The range includes titles in contemporary and classic film (Shawshank Redemption, Fabulous Baker Boys, Brief Encounter, The Red Shoes), children's titles (Numberjacks, Thunderbirds, Big & Small, Pinky & Perky), drama (Inspector Morse, Poirot, Cracker, Prime Suspect, A Touch of Frost, Lewis, Ultimate Force) sport (Arsenal, and Liverpool football clubs) and comedy (Al Murray The Pub Landlord, Harry Hill's TV Burp). ITV STUDIOS Global Entertainment also owns the video rights for the Rank and ITC film collections which contain over 1500 classic British films.