How to Fix Strange nVidia Graphics Lag in World of Warcraft
Probably the game I play the most in recent times is the mammoth all conquering MMORPG that is World of Warcraft. Very few PC only games get their own adverts on the telly, but this one not only does, it gets them with Mr T and Shatner. But I digress, the game is a time sink, if you don't have a lot of time then don't even give it a go.
One problem I've had recently, came as a result of upgrading my graphics card. You'd think that going from an nVidia Geforce 8800 GTS to a GTX 470 would result in amazing frame-rates, and actually it did... for less than a day. See I got an Asus card from Scan.co.uk, and it worked that day but come the next I couldn't even boot the PC. So I put in for an RMA on the Sunday after making 100% sure it was the card, Scan picked it up on the Tuesday, had confirmed it was faulty on the Thursday, and then did nothing.
Yes, there it was on their website in stock, and they sat on their hands. After talking to their awful technical support line on the Monday, the guy there pretty much had the "it's not our fault it went faulty" attitude, and then when I pointed out had I ordered a new card on the Thursday they confirmed it as faulty, I'd have had a new one by Monday, yet their own internal systems can't manage to even begin the process of replacing it during that time frame, he gave the lamest reason ever. They are different systems he told me!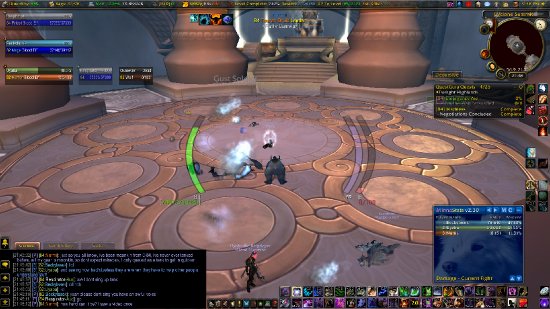 Anyway, it'll take a few days but I'll get a replacement, he said. It took more than a few days, and then suddenly the day after the product disappeared COMPLETELY from their website, I got an email saying a replacement had been authorised. I then waited a few more days as no delivery date was specified, rang them up again only to be told that the product was no longer available. A few days later I get a refund, meanwhile Christmas arrives meaning absolutely no way of getting a replacement from anybody. But it's okay, because the guy said I should just go get a GTX 570 instead as they are about the same price and much faster. I'm not sure what his idea of the same price is, but they aren't.
So I waited till 1st January, and then ordered a GTX 570, from Dabs. My tip for the new year, AVOID Scan.co.uk, imho their customer service is just plain awful, having a product go faulty within 14 hours was Asus' fault, but taking over 2 weeks to completely fail to replace it is Scan's. I wouldn't even mind too much if the people on the phone and via email were anything other than uncaring, but at no point did I think they gave a damn. Interestingly, I hadn't bought from them for a few years, since the last time, when I seem to remember having a problem with their service, some companies never change.
Anyway, where was I? Oh yes, graphics lag.
When I installed the Asus GTX 470, needless to say I installed a few Asus specific utilities, and the card was nice for the few hours it worked. When I swapped back in my old 8800 GTS, I suddenly had some odd performance issues. The main one being severe graphics lag that lasted about half a second every few minutes. There were certain directions where if I looked things became unplayable, even with all settings on their lowest, you couldn't even pan around some places without it driving me nuts.
I finally managed to fix this by realising that I still had some of the Asus specific utilities installed, and that even though when logging into Windows 7, the utilities would error and then close when they found I didn't have an Asus card installed, this was the cause. Something in them somewhere must have been tweaking the card or system somehow, as uninstalling them fixed it and I could once again run WoW with all the settings (bar water and shadows) maxed. Graphics lag gone!
Well, it was gone until I got my Point of View nVidia GTX 570 card last week. I put that in, installed the latest drivers from nVidia's site and away I went, or rather didn't. Graphics lag was back with a vengeance, definitely not like the type I got before, but a much more consistent problem. Pauses were never quite in the half a second league, but nothing was particularly smooth. I'd just gone from an 8800 to a 570, it should be much better than this.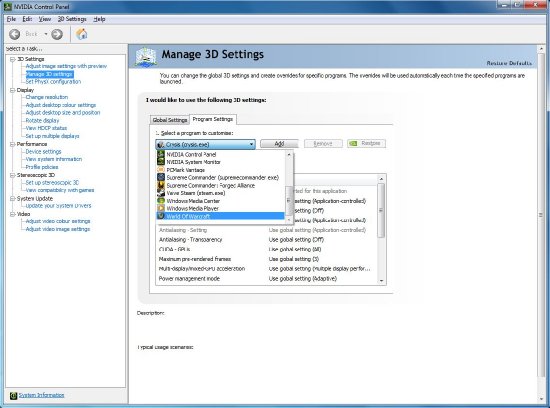 Confused, I remembered how some people had found that Adobe Lightroom (and actually Photoshop) had issues with nVidia cards and that tweaking some options in the nVidia control panel fixed them. So in I went expecting to tweak things under Manage 3D Settings for WoW, only to see that it wasn't listed at all. After I reinstalled my operating system following a bad RAM incident that rendered it unstable last year, I didn't reinstall Warcraft that time, I just copied the directory across, so for whatever reason the nVidia driver didn't think I had it installed.
Game specific settings can make a huge difference, so I clicked Add in the Manage 3D Settings dialog, browsed to my WoW folder and clicked on the WoW.exe. I was actually still running WoW whilst I did this, and to my amazement the performance improvement was instant. The lag disappeared there and then!
So to sum it all up, if you are having problems with your World of Warcraft install, or indeed any game, it might be worth making sure it is listed in the nVidia Control Panel, and if not add it there. And now I'll leave you with a bit of Mr T whilst I go off and roll myself a Night Elf Mohawk.