Anime Review Roundup (Updated)
Blu-ray Alchemist No More
Last year when it was announced that Full Metal Alchemist Brotherhood would be released simultaneously on Blu-ray as well as DVD, it appeared to be a watershed moment in UK anime, the first retail release of a mainstream anime series on the higher definition format. It turns out that it was more a case of testing the waters than the new way of doing things. The UK waters aren't quite ready for such an endeavour just yet, as Manga Entertainment announced today that volume 2 of Full Metal Alchemist Brotherhood would be the last to be released in the UK on Blu-ray, and the rest of the series will be released on DVD only. They cite low sales not meeting the higher production costs. (A figure on their Twitter account reveals only 750 sales for volume 1 on Blu-ray, while DVD sales remain robust). Here's the press release to further depress…
Quote: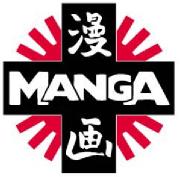 It is with sincere regret that Manga Entertainment has decided to discontinue the series, Fullmetal Alchemist Brotherhood on Blu-ray. This difficult decision had to be made in light of the high production costs of producing the series on Blu-ray and the disappointingly low sales of Part 1 and 2 on the format. To clarify, this will mean that there will be no new Blu-ray sets released by Manga Entertainment after Fullmetal Alchemist Brotherhood - Part Two. However, the series will continue to be released on DVD with Part Three released on 23rd February 2011, Part Four to be released on 25th April and Part 5 released on the 12th September (to be confirmed).

Jerome Mazandarani, Marketing Manager from Manga Entertainment has offered his sincere apologies to all fans that will be disappointed with this decision:



"It is never our intention at Manga Entertainment to disappoint our very loyal customers who we appreciate enjoy collecting a complete series on their favourite format. However, the exceptionally high inception costs involved in releasing the series on Blu-ray and the relatively small sales we enjoy in the UK have made the endeavor unviable. I cannot apologize enough to the fans that have already started collecting the series on Blu-ray for the disappointment this may cause them. I sincerely hope that you will continue to collect the series on DVD."



Future Fullmetal Alchemist Brotherhood Blu-rays Will Be Region Locked
Following yesterday's announcement by Manga Entertainment,
UK Anime News
is reporting that it is very likely that future FMA: Brotherhood Blu-rays will be region locked. Volumes 1 and 2 from Funimation and Madman Entertainment were Region Free, but from Volume 3 Funimation's releases will be Region A only, while Madman's releases will be Region B. Importers looking to offset their disappointment at the Manga announcement should be aware.
I wonder if Manga would have had to discontinue the series on Blu-ray if the discs had all been region locked in the first place....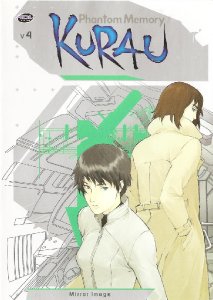 Once again we begin with a volume of Kurau. It's
Kurau Phantom Memory: Volume 4
to be precise, the last volume of the series that saw a UK release before ADV folded. It's why I imported from the US, so that I could get volumes 5 and 6 as well, useful if you want to know how a story ends. I want to know how Kurau Phantom Memory ends, but as the review for this volume shows, the process of watching it isn't as rewarding as I hoped it would be. It's a nice sci-fi show with a couple of very engaging central characters. But somewhere along the way, the word nice has become synonymous with average. It's a word that you use when you really don't have an opinion. I do have an opinion. Click on the review and you'll find that it's a nice opinion.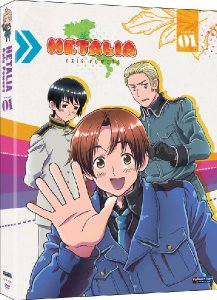 Next up was
Hetalia Axis Powers: Complete Series 1
, which is anything but nice. The Japanese anime industry has made a comedy about World War II. The nations of the world have been personified, anthropomorphised, and been gifted with the traits and clichés that most typify their nations. Hetalia is one of those compound words that the Japanese are so fond of, 'hetare' meaning useless coward, and Italia, and so cowardly Italy, efficient and determined Germany and inscrutable Japan get together to form their club, while the allies, snooty England, upstart USA, annoying France, psychopathic Russia, and China spend more time arguing with each other than dealing with the Axis. It's a collection of all the absurd national stereotypes that Japan has about the world gathered into a series of five-minute shorts, made up of brief sketches. And then Funimation comes and dubs it, and adds a bunch of national stereotypes that the US has about the world. It's cute, and it's silly, and the older history thread where Holy Rome falls for baby Italy is worryingly adorable.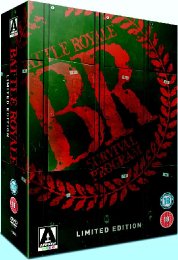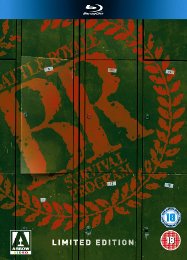 If you're into your manga, then you'll know about Battle Royale, one of those titles that you might find in your library that make you wonder if the councils ever read what they lend out, and then make you thankful that they don't. Of course more people know about the movie from Kinji Fukasaku, with its tale of a high school class, taken to a deserted island, wrapped in exploding collars, and given a bunch of weapons and told to kill each other. It's part Lord of the Flies, part Running Man, part Mad Max Beyond The Thunderdome, and a whole lot of originality thrown in. It's not for the faint-hearted, and it's being re-released by Arrow Video. They are giving Battle Royale the Limited Edition Treatment. It's making its debut on Blu-ray, and the DVD re-release looks almost as delectable. Click on my review of the
Battle Royale Limited Edition DVD
to see why you will want one in your stocking come Christmas Day. Or you can click on David Beckett's review of the
Battle Royale Limited Edition Blu-ray
if your equipment can handle it.
ADV released Kurau Phantom Memory: Volume 4 in the US back in 2007, and it was the last in the series to see a UK release as well. Manga Entertainment release Hetalia Axis Powers today. Also today you'll be able to get Battle Royale Limited Edition from Arrow Video. But be quick about it, there are only 10000 Blu-ray sets up for grabs, while DVDs are even more limited at 5000. Otherwise you'll have to wait until next February for the standard edition releases.