Anime Review Roundup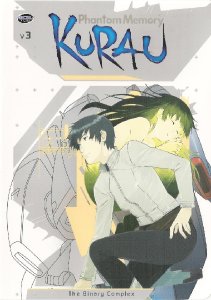 A triumvirate of anime reviews for you to enjoy this week, beginning with what looks to be a regular delivery of Kurau Phantom Memory opinion, this time with
Kurau Phantom Memory: Volume 3
. I can add little more to what I have said over the last two weeks, that it's a sci-fi action thriller, with a couple of very appealing central characters. A girl named Kurau gets joined to a binary alien being known as a Rynax when an energy experiment goes wrong, and her counterpart Christmas soon joins her. But there is a big conspiracy going on with the Global Police Organisation, and they have to go on the run as a result. Fortunately, they have some super powers thanks to the aliens.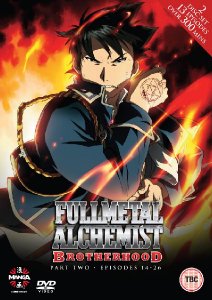 Kurau Phantom Memory's director Yasuhiro Irie went on to direct our next stopping off point on our weekly jaunt through anime, Fullmetal Alchemist Brotherhood. I got to look at two discs worth in
Fullmetal Alchemist Brotherhood: Part 2
, and this is where the show really gets interesting. The thing is that this is the second time out for Fullmetal Alchemist. The first series followed the manga as long as it could, and then fashioned a separate ending when it ran out of stuff to adapt. By the time Brotherhood came around, the manga was complete, so now we get the original story as it was first conceived. Part 1 of Brotherhood was little different from the first two thirds of the first series, and watching it over again wasn't all that appealing, despite the widescreen upgrade. But in Part 2, it's all new story, with a host of new characters, and an utterly beguiling direction in which the conspiracy looks to be heading. Click on the review to see if I've stopped salivating yet.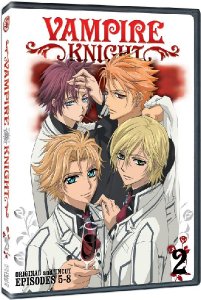 Finally it was the turn of
Vampire Knight: Volume 2
. Vampire Knight looks to be one of those shows that deliberately set out to annoy me for various reasons. Here it's a combination of value for money, disc authoring, and that cherry on top that is another anime series about misbegotten vampires. You know what's most annoying of all? With this second volume, Vampire Knight turns out to be pretty good, infuriatingly good. It's hard to stay mad at a series when you wind up enjoying it, and despite the disc, the price, the oh so moody but elegant vampires, there's something about Vampire Knight's characterisations and story that just draw me in. Find out why I think the drawbacks are worth putting up with by clicking the link.
Kurau Phantom Memory: Volume 3 was released by ADV in the US back in 2007, and some UK copies may be floating around still. Fullmetal Alchemist Brotherhood: Part 2 comes out today, courtesy of Manga Entertainment. Manga will also release Vampire Knight Volume 2, but next week on the 13th of December.