British gangster flick Sudden Fury arrives on DVD in February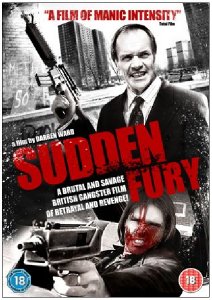 SUDDEN FURY
RELEASED ON DVD 28TH FEBRUARY 2011
A BRUTAL AND SAVAGE BRITISH GANGSTER FILM OF BETRAYAL AND REVENGE
"Explosive action & gore with touches of Tarantino and Lucio Fulci. Awesome"
-
Sitges Film Festival
"An astonishing frenzy of gangster gore"
-
Mondo Digital
"Ultraviolent action piece that should be in every cult film fanatic's library"
-
CULTCUTS
Randall (Paul Murphy) is a small time crime boss with his eye firmly on his rivals cocaine stash and criminal empire. Randall and his right-hand henchman Jimmy (Andy Ranger) hire legendary hit man Walker (Nick Rendell), to take out his nemesis Harris. With Harris out of the way, Randall plans to take over the sole distribution of Cocaine for the whole South coast of England.
It soon becomes apparent to Walker that Randall never intended to pay for his work. With his plan compromised Randall pulls out all the stops to have Walker killed, but is it Randall who should be worried?
Double crossed and betrayed, the underworld better get ready for WALKER!
Extras:
· Trailer, Outtakes & Deleted Scenes
· Special FX : Applying the Gore
· Photo Gallery
· Bitter Vengeance - Sudden Fury is based on characters in short film.
· Director and lead actor's audio commentary
· New Featurette -12 years on! The FURY still burns
· Nightmares' short film.
· RUN TIME: 102 mins approx
· CERT: 18
· GENRE: Crime/Action
· CAT NO: DIG3830
· BARCODE: 5034741383011
· RRP: £19.99