Family feature The Search for Santa Paws hits DVD and Blu-ray this November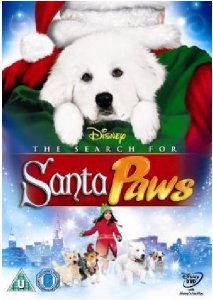 From the creators of

Snow Buddies

,

Space Buddies and 
Santa Buddies

…
Walt Disney Pictures
Presents
THE SEARCH FOR
SANTA PAWS
ALL NEW AND EXCITING ADVENTURE PREMIERES EXCLUSIVELY
ON DISNEY BLU-RAY AND DVD ON 15TH NOVEMBER 2010
This Christmas, Walt Disney Pictures invites you to cuddle up in front of the fire with the cutest pooch in town, as
Santa Paws
is unleashed as the star of his very own festive movie.
As the most magical time of the year approaches, the creators of Santa Buddies present
The Search for Santa Paws
, an enchanting fairytale which follows our favourite canine Christmas helper as he takes to the streets of New York in a bid to save Christmas.
When Santa Claus' 1600th birthday present - a white, fluffy stuffed toy puppy - is brought to life as Santa Paws by the Great Christmas Icicle, the adventures quickly ensue. But things go terribly wrong when Claus loses his magic crystal, which powers his Christmas spirit and ability to be Santa. As a result, Claus loses his memory and becomes mortal.
Santa Paws must find Claus and the crystal in a bid to save the children from a world without Santa Claus, whilst in the meantime keeping the Christmas spirit alive for orphans Quinn (
Kaitlyn Maher
-
America's Got Talent
) and Will (
Madison Pettis
-
Hannah Montana, The Game Plan
), whose greatest wish is to be part of a family.
Santa Paws, with the help on his friends, is on a puppy mission to save the day. He is joined by Rasta, a jammin' dreadlocked Jamaican Puli; a street smart Bulldog pup named T-Dog; Haggis, a wise-beyond-his-years Scottie as well as old favourite Eddie from last year's Christmas smash hit Santa Buddies.
With puppies, presents and paw-prints,
The Search for Santa Paws
is an uplifting adventure with a stocking full of Christmas cheer and a merry sprinkling of goodwill.
The Search For Santa Paws
is available
exclusively
on Disney Blu-ray and DVD from 15th November 2010.
-ENDS-
Blu-ray and DVD bonus features
Music Video
Production information
· Release date: 15 November 2010
· Certificate: U (TBC)
· Running time: TBC
· Directed by: Richard Vine
Notes to Editors
Disney Blu-ray and DVD Double Play:
To provide consumers with unprecedented quality, value and portability of their favorite Disney movies, in 2008 WDSHE pioneered the Double Play - a Blu-ray DiscTM plus a DVD in a single package. Current Disney branded titles available as Double Plays include Alice in Wonderland and The Princess and the Frog with future plans for Beauty and the Beast and Prince of Persia: The Sands of Time.