MAGIX Rescue Your Videotapes version 3.0
Now even easier to preserve those precious memories with the included Video easy software. Windows and Mac OS versions available.
Videotapes are being threatened by all kinds of dangers! Fortunately, the "Rescue Your Videotapes!" package from MAGIX can back up your valuable recordings in a flash on your PC or on DVD. No TV card or similar is required! Just connect your video device to the included USB video converter, start MAGIX Video easy and import your footage. The rescue package is suitable for VHS as well as all other tape formats!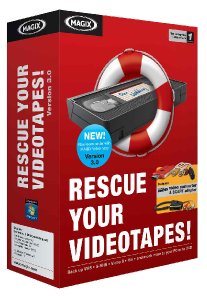 Only MAGIX provides a complete set of accessories for connecting your VCR or camcorder to your PC. This includes the SCART adapter, which otherwise has to be purchased extra with other offers, as well as a useful USB extension cable in case your PC or laptop is further away.
The average life expectancy for VHS cassettes amounts to around 15 years, and that's in optimum storage (protected from light, low moisture levels, and constant temperature). The magnetic layer slowly deteriorates until the tape is useless. And all this can happen at a faster pace if tapes haven't been stored in the best possible conditions! Usage alone destroys the image quality of your recordings. Brightness, contrast, and colour become weaker and weaker, and even image distortions can develop!
Features:
Now even easier with MAGIX Video easy

NEW!

Interface. The new, tidy user interface of MAGIX Video easy includes extra large buttons and is free of confusing symbols and unnecessary functions - Simply reduced to the basics. For even faster results!

NEW!

Optimized task assistant. The new recording assistant leads you step by step through recording your precious video treasures. Simply connect your video recorder and follow the easy-to-understand instructions.

NEW!

Quick start function. With the quick start button on the MAGIX USB video converter (the black button), you can go directly to the program's recording mode. Press the button twice in a row to directly start recording - perfect for when you just found a scene, which you would like to record right away. You can stop an ongoing recording by pressing the button again. So easy!
NEW!

Simplified image and sound optimization

NEW!

Many new DVD menu templates
Price & Availability:
MAGIX Rescue Your Videotapes 3.0 Mac and PC versions are available now for SRP £59.99 inc VAT from Amazon and PC World.
For more information:
MAGIX Convert VHS Video To DVD - MAGIX Rescue Your Videotapes