Some Dogs Bite
Some Dogs Bite
is an independent British feature film directed by award winning director Marc Munden (
The Devil's Whore, The Mark of Cain, Vanity Fair)
and produced by BAFTA Award winner Sara Feilden (
Who Needs Fathers? Stopping Distance, Offside
). Emmy and BAFTA Award winning producers Anne Brogan and Melanie Stokes
(Dustbin Baby, The Illustrated Mum
) are executive producers. The original screenplay is by writer Lin Coghlan (
The City Speaks, Electric Frank, First Communion Day).
Some Dogs Bite
has been nominated in the category of Best Cinematography at this, the 11th International Woodstock Film Festival. The film's director of photography is Wojciech Szepel (
Tess of the D'Ubervilles, Mrs Mandela).
David Charap (
Dive, In the Land of the Free, Mrs Mandela
) is editor with production design by Helen Scott (
Fish Tank, Red Road
).
The story focuses on a dysfunctional family of three half-brothers who, following their mother's death, are reluctantly reunited when 14-year-old Casey absconds from care (with his baby brother Severino) in order to track down his real father.
Aaron Taylor (
Sweet Deal
) plays the eldest brother H (aka Halliday), Thomas Brodie Sangster (
Nowhere Boy, Nanny McPhee, Love Actually)
plays his younger half brother Casey, Michelle Asante (
Sand Serpents)
and Dhillon Mandeep play the equally troubled Venetia and her friend Seema who join forces with the boys for part of the journey. And Aymen Hamdouchi plays Lenny, Halliday's friend who has just returned from service in Afghanistan
Some Dogs Bite
is a Kindle Entertainment production. Filming took place in the UK in the Spring of 2010.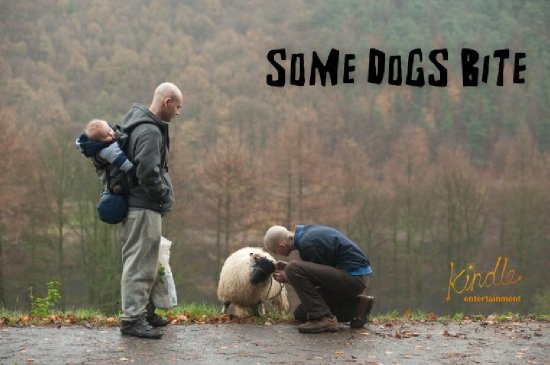 Synopsis
H (18), Casey (14) and baby Severino have been split up after their mother's death. Casey is in care; Severino has been fostered with a view to adoption, and no one really cares what H does; even his mum thought he was a waste of space.
But Casey is determined to keep the family together - running away from care, Casey snatches Severino from the baby's foster parents, steals H's stash of money and posts the cash to a PO Box in Inverness in the North of Scotland. His goal is to find his estranged dad, who moved back to Inverness years ago, a long way from London. To ensure his older brother's help on the journey, Casey makes sure H will need to sign for the money - if H wants it back, he'll have to join them on their road trip north.
It is the start of a life-changing journey, in which the brothers meet other teenagers whose lives are similarly touched by hurt but who also have the potential for change.
Venetia is neglected by her mother and, with her best-friend Seema, is intent on getting what she's owed by her mum's useless ex-boyfriends. Lenny has returned from serving in Afghanistan, only to find his girlfriend has left him and taken his new baby daughter with her.
Along with H, Casey and Severino, this unlikely ensemble of overlooked young people find untapped value in themselves and come to understand the heart-breaking strength of family ties. Together they discover direction in a world that has forgotten about them.
Biographies - Filmmakers
Director - Marc Munden:
"
Some Dogs Bite
is a film that can only have been made now - when adults are children and children are expected to be adults, when adults are no longer
able to take on the burden of parenting, so infantilized have they become, so dependent on escaping through drugs and drink. And children have to take on that burden instead" - Marc Munden.
Marc Munden is currently directing a four part adaptation of the novel by Michael Faber entitled
Crimson Petal and the White.
The BBC production stars Gillian Anderson, Richard E Grant, Romola Garai and Chris O'Dowd.
Prior to shooting
Some Dogs Bite
he directed the award winning historial drama
The Devil's Whore
starring Andrea Riseborough, Michael Fassbender, Dominic West and John Simm. The drama, set in the English Civil War won four Royal Television Society Awards including Best Serial, two Broadcasting Press Guild Awards again including Best Serial, as well as the South Bank Show Award for Best TV Drama and the Chicago Film and TV Festival Silver Hugo Award. The series was also nominated for four BAFTAS including Best Serial.
Prior to this Munden directed
The Mark of Cain
which told the story of two young soldiers in the Iraqi invasion of 2003 and their involvement with and torture of Iraqi detainees. The drama starring Gerard Kearns, Matthew McNulty and Leo Gregory, won a BAFTA for Best Single Drama as well as the South Bank Show Award for Best TV Drama. Other awards include the Rotterdam Film Festival Amnesty International Prize, the Nymphe d'Or at the Monte Carlo TV Festival with Munden being nominated for a BAFTA as Best Director and the Royal Television Society nominating the feature as Best Single Drama.
Munden's other credits include
Shiny Shiny Bright New Hole in My Heart
for BBC2 and
Conviction
which won the Nymphe d'Or at the Monte Carlo TV Festival,
The Canterbury Tales - The Knight's Tale, Miranda
which starred Christina Ricci, Kyle MacLachlan, John Hurt and John Simm which was in selection at the Sundance Film Festival in 2002 and won the Audience Award at the Raindance Film Festival in 2003 as well as
The Secret World of Michael Fry.
His1998 production of
Vanity Fair
adapted by Andrew Davies for BBC1 won three FIPA D'Or prizes, the BANFF Special Jury Prize, as well as being nominated for six BAFTAs including Best Serial and two Royal Television Society Awards. His police thriller
Touching Evil
starring Robson Green, Claire Rushbrook and Sean Gallagher was also nominated for three BAFTAs including Best Series and four Royal Television Society Awards including Best Series.
An accomplished documentary maker, Munden has also won an Emmy for Outstanding Documentary Current Issues (Heartland) for his production of a Mexican American community in Denver as it fights the threat of commercial expansion.
Producer - Sara Feilden:
Sara Feilden is a BAFTA Award winning film-maker whose focus on contemporary issues has won her great acclaim and several awards.
Her most recent project is
Who Needs Fathers?
which is a major documentary series looking at the impact on generations of children growing up without fathers. Feilden both produces and directs these documentaries which were made for BBC2.
Her TV series
Turning Points,
directed by Jonathan Hacker,won Feilden her first BAFTA Award in 1999 as well as an RTS Award.
Saying It For The Girls
won her a second BAFTA in 2000and with
Offside,
a hard-hitting drama about racism she got her third BAFTA Award in 2002.
Other notable credits include
Marrying My Cousin (
RTS Award) produced and directed by Feilden,
Don't Let Go,
directed by Dirk Campbell,and
Stopping Distance,
directed by Richard Alwyn
,
which follows the harrowing aftermath of a gang rape.
Executive Producers - Anne Brogan and Melanie Stokes:
Some Dogs Bite
is a Kindle Entertainment Production. Founders Anne Brogan and Melanie Stokes are executive producers.
Since its formation in May 2007 Kindle Entertainment has proved itself one of the UK's most successful and respected production companies winning awards in both the US and the UK.
In 2009, Kindle's highly acclaimed drama
Dustbin Baby
starring Juliet Stevenson and Dakota Blue Richards and based on Jacqueline Wilson's novel, won an International Emmy Award in the Children's and Young People's category and a BAFTA for Best Writer.
In the same year Kindle won a further BAFTA for Best Interactive for its pre-school series
Big and Small
voiced by Lenny Henry
.
The CBeebies puppet show also won a Royal Television Society Award for Best Children's Programme.
Kindle Entertainment has also recently produced an updated pastiche of the Cinderella story with
Jinx,
a comedy based upon Fiona Dunbar's best selling novel, as well as
My Spy Family,
a 26 part live action comedy for Turner Kids
.
Brogan and Stokes have many years experience producing television programming including the BAFTA Award winning pre-school series
Pocoyo
and the long running and hugely popular series
My Parents are Aliens
which won three Royal Television Society Awards.
Brogan and Stokes first met at ITV where Brogan was formerly Controller of ITV Kids and Stokes Head of Development.
Writer - Lin Coghlan:
"I began working as a writer in residence in prisons in 2000 mostly working with young men and women who had literacy and behavioural problems. As I came to know them and hear their stories, I was struck by the intense loyalty they had for family, especially siblings, and the deep instinct they had to protect each other. Their lives are unimaginable, children who had often never been parented, nurtured or comforted had such capacity to create and abide by their own ethical rules, and still had their humanity intact, despite having often committed crimes where they clearly had little or no ability to empathise with their victim...." Lin Coghlan
Writer Lin Coghlan hails from Dublin and trained at the Rose Bruford College before writing for radio, film, television and theatre.
Her main film credits include
The City Speaks
for BBC/London Films,
Electric Frank
for Tigerlily and BBC Films which was the winner of the Leopard of Tomorrow Locarno Film Festival Award and
First Communion Day
again for Tigerlily and BBC Films which was the winner of the Dennis Potter Play of the Year Award.
Coghlan has written many episodes for well known television series including
Eastenders, Grange Hill
and
The Bill,
as well as penning
The Clinic
for Parallel Films/RTE and
Patrick's Planet,
a 13 part original series for CBBC.
Coghlan is also an accomplished writer for theatre and radio with productions including
The Miracle
at the National Theatre,
Kingfisher Blue
at the Bush Theatre,
Mercy
at the Soho Theatre/National Theatre Studio and
Apache Tears
which was the winner of the Peggy Ramsay Award. Other theatre credits include:
Rising Blue
at the Royal National Theatre Studio,
The Night Garden
at the Northcott Theatre, Exeter and the Royal National Theatre Studio,
With Love From Nicolae
at the Bristol Old Vic,
Bretevski Street
at the Theatre Centre and
Waking
at the Soho Theatre.
Radio productions include adaptations of
The Fortunes of War
,
Les Miserables
and
Mansfield Park
. Whilst original plays include
Passing, The Good Woman's Tale and
The Lambs Snow
all for Radio 4.
Biographies - Cast
Halliday 'H' - Aaron Taylor:
Aaron Taylor plays 18 year old 'H' in
Some Dogs Bite,
the estranged half brother of 14-year-old Casey, who reluctantly finds himself carer of both Casey and his baby half brother Sevvie, when Casey decides to abscond from foster care in order to find his real father.
Taylor has also played the role of Tom Rutland in Hazardous Production's feature
Sweet Deal
and starred in several short films. In
Gently
he played the role of Dean Lee Marshall and
Souljah
he played the role of Stats, both were directed by Rikki Beadle-Blair for Anglica Productions. Taylor also played the role of Buster in Tim Worsley's short
Kill Your Television
and the role of Bobby in Daniel John Steer's short
The Red and the Black.
Other credits include the role of Minute Man in James Forenian's
Minute Man
and the role of Jason in Thierry Lawson's
XED.
Taylor is also an accomplished theatre actor with productions including Jonathan Kemp's
Plane Crash Horror,
Dawn Reid's
Pictures
at the Theatre Royal Stratford and also
Family Man,
Rikki Beadle-Blair's
Grope Box,
Jack Shepherd's production of
Measure for Measure
at the Arcola Theatre and Mathew Faye's production of
Elsewhere.
Casey - Thomas Brodie-Sangster:
Acclaimed young actor Thomas Brodie-Sangster plays the role of 14-year-old Casey, a young man who following the death of his mother embarks on a journey to reunite his remaining family.
Brodie-Sangster first came to the attention of the British public in Richard Curtis' feature
Love Actually
in which he played the role of Sam. He also played the role of Simon along side Emma Thompson in the feature
Nanny McPhee,
again for Working Title. And most recently he starred in Sam Taylor Wood's
Nowhere Boy
in the role of Paul McCartney. The film which also starred Aaron Johnson was nominated for Best British Film at this year's BAFTAs.
He will next star in Ian Fitzgibbon's feature
Superhero.
The film which will shortly commences production, sees Brodie-Sangster in the lead role of Vincent, playing opposite Andy Serkis.
Other film credits include the role of young Tristan in
Tristan and Isolde,
the role of Romulus Augustus in
The Last Legion,
the role of Lucignolo in
Pinocchio
andthe role of Samuel Brawne in Jane Campion's
Bright Star.
He will next appear as Mark in Niall MacCormick's
Albatross
and in Agnes Merlet's
The Last Furlong.
Brodie-Sangster is also a familiar face in television having appeared in
Lewis, Doctor Who, Entrusted, Featherboy, Hitler: The Rise of Evil
in which he played the young Hitler,
Bobbie's Girl, Stig, Station Jim
and
The Miracle of the Cards.
He also voices the role of Ferb in Disney's animated series
Phineas and Ferb.