Anime Review Roundup
Twits and Pieces
There wasn't a lot of major news around last week, or at least none that I read, but as usual Twitter announcements abound, and there may be something of interest here… to someone… somewhere…
If you were getting warmed up for the Eureka Seven movie at the end of this month, cool down again, as issues with materials means that Manga have delayed it till the beginning of 2011.
This might make up for this though. I did say previously that Hetalia Axis Powers was due after Christmas. Well Manga have announced the release dates, and Series 1 will be released before, on December 13th. Series 2 will come on the 7th of February 2011.
If you're eager enough for the forthcoming Professor Layton and The Eternal Diva movie to contemplate the Special Editions, then be warned that said special editions will be limited. Manga are releasing only 1000 of the super duper collector's edition with book, and only 2000 of the Blu-Ray DVD Bonus Disc combi.
Manga did say they had licences plural to announce, but Hetalia was all we got last week. The elusive dotted line means that some of the other announcements are due on the 10th of October.
No date, but Beez also have a couple of new licences of their own that they will be trumpeting soon.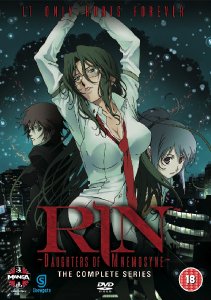 You know, if I were a suspicious man, I'd assume the worst of someone who ran a competition for a DVD before posting the review for it. Nothing nefarious going on here though… I'm just a lazybones who finished writing the review after the competition finished.
Rin - Daughter of Mnemosyne
is the cutting-edge old-school anime that mixes the best of both worlds, the smart modern storytelling and animation, with the old fashioned sex and violence, and I have to admit that I had a blast with this show in a way that I haven't had with anime in a long time. Immortal lesbians and S&M are just the subjects to give Middle England a bother. Go on, click the review, bother a blue rinse today!
Manga Entertainment today unleashes the filth that they couldn't be bothered to ban. Rin - Daughters of Mnemosyne is in shops right now, when it could be on your DVD shelf instead.