A sound little bar...
Introduction
Speakers are coming out of our ears at the minute. We've covered all shapes and sizes in recent times from big desktop beasts, to tiny portable things that you can slip into your bag.
The Soundbar USB comes in at the smaller end of that scale, designed to travel with your laptop (or desktop). It's a stylish, brushed aluminium tube that looks at home with most modern and funky laptops.
Operation
Total simplicity. Take it out of the box, and plug it into a spare USB port. That's it. Everything is handlded via the USB port, so there's nothing else to do. There's a volume control on the side, and that's your lot.
There is a 3.5mm jack to accept external audio signals, but you need a USB port to power the speakers.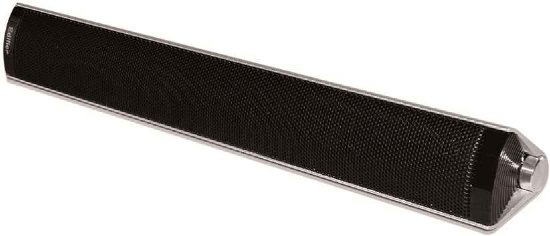 Sound Quality
Surprisingly good for something so small. You have to remember that this is a computer speaker, so you're not going to get audiophile quality, but you certainly get a sound that's better than your average laptop or PC speaker.
The sound is nice, with reasonable bass and good treble.
Conclusion
A great little bit of kit at a reasonable price. It's another very good speaker system from Edifier, who can't seem to do any wrong right now! It may only be a small USB speaker, but it is better than your usual USB speaker.
If you want to improve the sound coming out of your computer, whilst looking rather cool and swish at the same time, this modern brushed-aluminium number should do nicely.
Recommended.