ALIEN ANTHOLOGY - Released on Blu-ray On October 25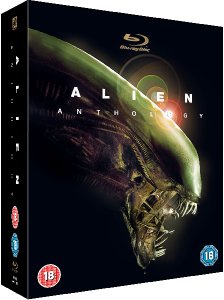 The Ultimate Collection Featuring All Four ALIEN Films Hatches On Blu-ray On October 25 With Never-Before-Seen Bonus Material And The Debut Of The Exclusive and Groundbreaking Interactive Experience, MU-TH-UR Mode
Sometimes, the scariest things come from within. Twentieth Century Fox Home Entertainment presents one of the most successful and terrifying film franchises of all time when the
ALIEN ANTHOLOGY
debuts on Blu-ray for the first time ever on October 25.
All four
ALIEN
films have been reinvigorated for an intense Blu-ray high-definition viewing experience. The release also marks the debut of
MU-TH-UR Mode
, a fully interactive companion that takes the extensive materials in the
ALIEN ANTHOLOGY
and puts them in the user's hand - connecting fans to special features on all six discs and instantly providing an index of all available
ALIEN
content, including over 60 hours of special features and over 12,000 images.
ALIEN ANTHOLOGY
will also be available in a
Limited Edition Collector's Set
featuring 'The Guardian' - an exclusive illuminated egg statue sculpted by Sideshow Collectibles®.
The
ALIEN ANTHOLOGY
is a truly unique home entertainment experience. For the first time ever, the studio has united the material from every home video release of the
ALIEN
saga including the 1991/1992 laserdisc releases, the 1999 "Legacy" release and 2003's groundbreaking
ALIEN QUADRILOGY
release into one complete Blu-ray collection. The set also includes two versions of each film and over four hours of previously unreleased exclusive material such as original screen tests of Sigourney Weaver prior to filming the original
ALIEN
, unseen deleted scenes, thousands of still photographs from the Fox archives, the previously unseen original cut of "Wreckage and Rage: The Making of
ALIEN3
," and much, much more.
The
ALIEN ANTHOLOGY
is just one aspect of Twentieth Century Fox Home Entertainment's year-long campaign to honour the studio's 75th birthday. This year the division will debut several select fan-favourites on Blu-ray for the first time ever including
The Rocky Horror Picture Show, William Shakespeare's Romeo
+
Juliet, Moulin Rouge!
and
The Sound of Music.