Season 7 of detective series Monk hits DVD in August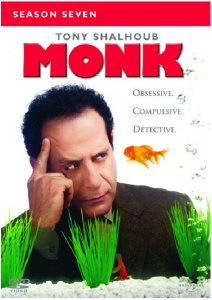 MONK:
SEASON SEVEN
AVAILABLE ON DVD FROM 23RD AUGUST 2010
O
bsessive.
C
ompulsive.
D
etective.
Get ready to join forces with San Francisco's most unusual detective with the DVD release of
Monk: Season Seven
, available from
23rd August 2010
courtesy of Universal Playback.
Tony Shalhoub returns to his acclaimed three-time Primetime Emmy® Award and Golden Globe®-winning role for a stellar seventh season in the quirky and irreverent detective show, Monk. Join him and fantastic guest stars Brad Garrett, Eric McCormack, Sarah Silverman, Hector Elizando and more in 16 hilarious, unforgettable episodes - including the all-star 100th episode, "Mr. Monk's 100th Case!"
Despite his photographic memory and his amazing ability to piece tiny clues together, Monk is now on psychiatric leave from the San Francisco Police Department, aided by his personal assistant and practical nurse, Sharona Fleming (
Bitty Schram
). Refusing to give up on his career, Monk works freelance as a detective, hoping to convince his former boss, Captain Stottlemeyer (
Ted Levine
), that he is able enough to return to the force. Stottlemeyer wavers between admiration for Monk'swork and annoyance at his eccentricities.
With the perfect blend of crime and impressive acting, get ready for a sympathetic yet comedic look at the life of a man like no other.
Product Information
Release Date: 23rd August 2010
Credit: Universal Playback
Genre: Comedy
Cert: 15
Discs: 4
RRP: £27.99
Retail Cat. Number: 8261445
Retail EAN: 50505-8261445-9
Copyright: Film © 2008/2009 Universal Studios. All Rights Reserved.
www.universal-playback.com