Classic TV drama Kane & Abel out on DVD in October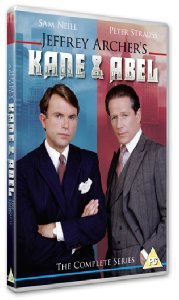 Mediumrare Entertainment are proud to announce
Kane & Abel
The Complete Series
Available to own on DVD for the

first time
from 18th October 2010
Kane & Abel is the best selling novel by Jeffrey Archer and is brought to the screen by Columbia Pictures in this classic tale of two ambitious men whose lives by fate and dominated rivalry and greed.
Starring Sam Neil (Jurassic Park,
Reilly: Ace of Spies) & Peter Strauss (Rich Man Poor Man, The Antagonists).
First Broadcast in the UK on BBC 1 in 1986
SYNOPSIS
Kane and Abel is a written by
British
author
Jeffrey Archer
. The title and story is a play on the
Biblical
brothers,
Cain and Abel
. Released in the
United Kingdom
in 1979 and in the United States in February 1980, the book was an international success. It reached No. 1 on the
New York Times
bestseller
list and in 1985 was made into a
CBS
television
miniseries
titled
Kane & Abel
starring
Peter Strauss
as Rosnovski and
Sam Neill
as Kane. Kane and Abel is the story of two men born worlds apart. They have nothing in common except the same date of birth (April 18, 1906) and a zeal to succeed in life. William Lowell Kane is a wealthy and powerful
Boston Brahmin
while Abel Rosnovski (originally named Wladek Koskiewicz) is a
Pole
born into desperate poverty who eventually emigrates to the United States. William follows the steps of his father, Richard Kane, to become a successful banker. When William was still a child, Richard dies in the
Titanic
disaster, leaving William fatherless and heir to the Kane & Cabot bank. William displays extraordinary discipline and intelligence as a young man at
St. Paul's School
and later at
Harvard
. His mother marries Henry Osborne, who turns out to be interested in gambling and women. William hates Henry from the beginning and spends most of the time at Harvard and at his best friend Mathew Lester's home. William dreams of becoming the chairman of Lester's bank one day. Henry spends every last penny of Kane's mother's money on the pretext of speculation, while she dies in a miscarriage. Kane throws Henry out of home. Wladek Koskiewicz is born in a forest and raised by a trapper family. When he grows up and is found to have exceptional intelligence, Baron Rosnovski asks him to become a companion to his son Leon so Wladek might prove to be a competition to him. Wladek agrees to go to the Baron's castle on the condition that he can bring along his elder sister Florentyna. Soon afterwards, World War I breaks out. Germans attack Poland and capture the Baron, his staff and son in his castle. Leon dies by the hand of a soldier. Before dying, the Baron hands him his silver band of authority. Wladek realises that the Baron was his father when he finds that, like him, the Baron too had a missing nipple. Florentyna is also raped and killed in front of young Wladek by Russian soldiers.
DVD CONTENTS
Full length brand new unedited version interview with Jeffrey Archer
DVD DETAILS
Cat no: FHED2772
Barcode 5030697018984
Running time: 420mins
Certificate: PG
Price: £24.99
Discs: 2
Kane & Abel
is distributed by Mediumrare Entertainment and is available from all good DVD retailers from 18th October 2010.