Scifi feature Hunter Prey arrives on DVD in September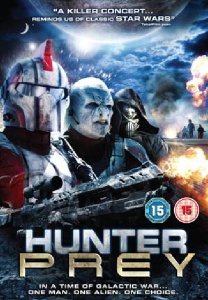 HUNTER PREY
ON DVD 6th SEPTEMBER 2010
"A KILLER CONCEPT…REMINDS US OF CLASSIC STAR WARS"
TotalFilm.com
The first feature film from Sandy Collora, director of short film and internet sensation
Batman: Dead End
A group of intergalactic commandos crash-land on a desolate and hostile planet while transporting a deadly alien prisoner who escapes and goes on the run. The commandos report in to their home base to seek assistance but are told they must track down and recapture their Alien alive, at all costs.
The surviving commandos play a dangerous game of cat-and-mouse with their former prisoner who is smart and not easily outwitted.
But as the commandos are picked off one-by-one and the odds begin to turn, who is the real hunter and who is the real prey?
The film premiered at this year's London Sci Fi Film Festival in April 2010.
With a clear nod to the original Star Wars trilogy, Hunter Prey is classic sci-fi that will delight fans with its painstaking recreation of an alien
world where danger, conflict and deceit abound.
DIRECTED BY
:
SANDY COLLORA