Bizarre low-fi oddity Trash Humpers hits DVD in September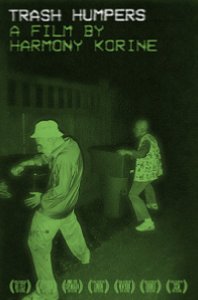 A Warp Films/ Alcove Entertainment Release of an O' Salvation and Alcove Entertainment Production
Harmony Korine's
TRASH HUMPERS
DVD RELEASE: 20 SEPTEMBER 2010
PRE-ORDERS AVAILABLE FROM 18 JUNE 2010
'Trash Humpers is the cinematic equivalent of listening to black metal'
Guardian
'The latest feature from Harmony Korine ... is the epitome of bizarre and a work of unbridled brilliance'
Bizarre
'It's a fearless soul that makes a film like Trash Humpers' Little White Lies
Married with a kid, and now residing in his native Nashville, cinematic provocateur Harmony Korine shows no signs of settling down. Hailed as "the future of American cinema" by Werner Herzog, writer/ director Korine has blazed a trail with his consistently idiosyncratic output, including KIDS, GUMMO, JULIEN DONKEY-BOY and MISTER LONELY. TRASH HUMPERS sees him return with an excoriating attack on the American Dream.
A lo-fi production of white-heat intensity, Korine calls it, "a new type of horror; palpable and raw." Korine intended the film to be more like a found artifact "a VHS tape that was in some attic or buried in some ditch." With this in mind, a special limited edition number of VHS tapes, hand customised by Korine, will also be available to buy from 20 September with pre-orders available from 18 June.
TRASH HUMPERS follows a small gang of sinister 'elderly' peeping toms through the shadows of a nightmarishly familiar suburban landscape. Their shocking and sociopathic behaviour makes for unbearably compelling viewing that scorches itself onto the mind's eye.
Come hang out at the crossroads of comedy and despair with TRASH HUMPERS…

To purchase a DVD & limited edition VHS visit: www.buy.trashhumpers.com or
www.warpfilmstore.com
For more information and theatrical release schedule (June - September) visit: www.trashhumpers.com


picture