Spread is out on DVD and Blu-ray in May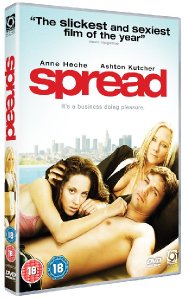 SPREAD
Out to own on DVD, Blu-ray and EST - 17th May 2010
Come and join the adventures of LA's ultimate playboy! Hollywood heart-throb Ashton Kutcher (
Valentine's Day, What Happens in Vegas
) is Nikki, a modern day lothario who is getting raw action all over town in
Spread
, released on Blu-ray and DVD from
17th May 2010
courtesy of Optimum Home Entertainment.
Inspired by American classics such as
American Gigolo, Shampoo
and
Breakfast at Tiffany's
,
Spread
takes a long, hard look at the sexual games people play in Tinsletown, both mentally and physically. With plenty of hot flesh on show from both Ashton Kutcher and his leading ladies, Anne Heche (
Ally McBeal, Psycho
) and Margarita Levieva,
Spread
will have you gasping for more.
Synopsis
Set in modern day Los Angeles,
Spread
is a hard-hitting story about a high-end lothario, Nikki (Ashton Kutcher), who has slept his way into a life of privilege. He shares his secrets with us as he hosts parties and beds scores of women, all the while living it up at the Hollywood Hills home of a middle-aged female attorney, Samantha (Anne Heche). Everything is going swimmingly until Nikki meets a gorgeous waitress named Heather (Margarita Levieva) who, unbeknownst to him, is playing the same game that he is. As their web of lies unravels, they find themselves sexually charged by a game of one-upsmanship until harsh realities force them to choose between love and money. Directed by David Mackenzie (
Hallam Foe, Young Adam
),
Spread
asks what karmic price for the Hollywood lifestyle, and whether it is a business doing pleasure?
Extras:
Interviews with Ashton Kutcher, Anne Heche, Margarita Levieva & Sebastian Stan / Trailer
Tech specs
Format: Region 2 - Retail/Rental Blu-ray disc and DVD
Cert: 18
Running Time: 93 minutes
Aspect Ratio: 2.39:1
Colour: Colour
Audio: Dolby Digital 2.0 & 5.1 / HOH subtitles
Language: English
Cat no: OPTD1724 / OPTBD1724
RRP:£15.99 (DVD) / £19.99 (Blu-ray)