Alice in Wonderland hits Blu-ray and DVD in June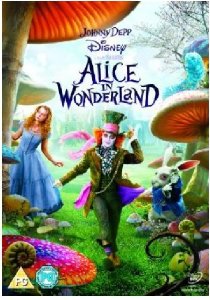 You've Got A Very Important Date
Walt Disney Pictures Presents…
ALICE IN WONDERLAND
Experience more of Wonderland with the Disney Blu-ray and DVD release
Available from Friday 4th June 2010
Following a record-breaking theatrical performance Tim Burton's epic fantasy adventure
ALICE IN WONDERLAND
takes its booming box office success into the home. The
wonder
fully visually arresting film will beavailable as a Disney Double Play release (1 disc Blu-ray and 1 disc DVD) and Disney Triple Play release (1 disc Blu-ray + 1 disc DVD and 1 digital copy) from
Friday 4th June
,courtesy of Walt Disney Studios Home Entertainment.
Audiences are invited to delve deeper into the rabbit hole to experience the magical and imaginative twist on one of the world's most beloved stories of all time in pristine high definition. A host of bonus features explore the whimsical world created by visionary directory Tim Burton (
Charlie and the Chocolate Factory
,
Sweeney Todd
) including a look inside the world of the Mad Hatter and Johnny Depp's transformation and the visual effects of growing and shrinking Alice, costume designs, music stunts and much, much more.
The film's opening weekend made
ALICE IN WONDERLAND
the highest-grossing non-sequel opening weekend in history, the biggest March opening of all time, the biggest 3D opening of all time and the biggest IMAX opening of all time. Thrilling audiences around the globe are stellar performances from an eclectic cast, many British.
Mia Wasikowska stars as 19 year-old Alice, who returns to the curious world she first encountered as a young girl, reuniting her with long forgotten childhood friends; the White Rabbit (Michael Sheen), Tweedledee and Tweedledum (Matt Lucas), the Dormouse (Barbara Windsor), the Blue Caterpillar (Alan Rickman), the March Hare (Paul Whitehouse), the Cheshire Cat (Stephen Fry) and of course, the illustrious Mad Hatter (Johnny Depp). Completing the cast of charismatic characters is the reigning Red Queen is outrageously and deftly delivered by Helena Bonham Carter, whilst her adversary The White Queen is uniquely portrayed by Anne Hathaway.
Film synopsis:
Tumble down the rabbit hole with Alice for a fantastical new adventure from Walt Disney Pictures and Tim Burton. Inviting and magical, ALICE IN WONDERLAND is an imaginative new twist on some of the most beloved stories of all time. Alice (Mia Wasikowska), now 19 years old, returns to the whimsical world she first entered as a child and embarks on a journey to discover her true destiny. Wonderland is a world beyond your imagination and unlike anything you've seen before. The extraordinary characters you've loved come to life richer and more colorful than ever. There's the Mad Hatter (Johnny Depp), the White Queen (Anne Hathaway), the Red Queen (Helena Bonham Carter), the White Rabbit (Michael Sheen) and more. A triumphant cinematic experience - ALICE IN WONDERLAND is an incredible feast for your eyes, ears and heart that will captivate audiences of all sizes.
Blu-ray and DVD EXTRAS:
Finding Alice

- It's all things Alice. This featurette includes Tim Burton's vision for the characters, differences from the book and Disney's version of Alice and how she evolves as both a character and actor as she takes an adventure through Wonderland.



The Mad Hatter

- Audiences are provided with a deeper look into the world of the Mad Hatter. Check out Johnny Depp's early sketches, make-up, costumes and how they digitally enhanced his eyes.



Effecting Wonderland

- A behind-the-scenes piece on the different technologies used to create some of the most beloved characters in the film - Stayne, Tweedledee, Tweedledum, Bandersnatch and the Red Queen.


PRODUCT INFORMATION:
Release date: Friday 4th June 2010
Certificate: PG
Running time: 109 minutes
Formats: Blu-ray Hi-Def, DVD, Disney Double Play, Disney Triple Play
FOR IMMEDIATE RELEASE
Notes to Editor:
About Disney's Double Play and Tripe Play packs:
To provide consumers with unprecedented quality, value and portability of their favorite Disney classics, in 2008 WDSHE pioneered the Double Play Pack - a Blu-ray Disc plus a DVD and in the cases of Triple Play pack, a Digital Copy of the movie in a single package. Current 2010 Disney titles available as Double Play include
Up, Toy Story, Toy Story 2
and later in the year
Princess and the Frog
.
About Walt Disney Studios Home Entertainment:
Walt Disney Studios Home Entertainment, a recognized leader in the home entertainment industry, is the marketing, sales and Distribution Company for Walt Disney, Touchstone, Hollywood Pictures, Miramax and Buena Vista product, which includes DVD, Blu-ray Disc™ and electronic distribution. Walt Disney Studios Home Entertainment is a division of The Walt Disney Studios.