Cloudy With a Chance of Meatballs out in 3D on Blu-ray this June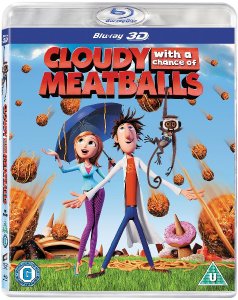 Sony Pictures Home Entertainment Brings 3D Movies Into the Home With Sony Pictures Animation's
Cloudy With a Chance of Meatballs
on Blu-ray 3D™ June 14
Also Coming Soon on Blu-ray 3D™ are
Open Season
and
Monster House
London, UK. (April 15, 2010)
-
Timed with the upcoming launch of Sony Electronics' 3D capable BRAVIA LCD HDTVs and Blu-ray players, Sony Pictures Home Entertainment (SPHE) announced today the release of the studio's first Blu-ray 3D™ title in the United Kingdom. Sony Pictures Animation's comedy adventure
Cloudy With a Chance of Meatballs
, debuting June 14 2010.
The Blu-ray 3D™ release of
Cloudy With A Chance of Meatballs
will showcase the film's colourful environments and groundbreaking lighting technology crafted by an award-winning animation team in full 1080p high definition 3D, optimised for the latest 3D playback devices and eyewear, as well as a 2D high definition version of the film that can be viewed on existing Blu-ray players.
The eye-popping Blu-ray 3D™ release of
Cloudy With a Chance of Meatballs
offers a variety of delicious special features and will also feature sneak peeks in 3D of Sony Pictures Animation's
Open Season
, also coming soon to Blu-ray 3D™.
"We are thrilled to announce the first Blu-ray 3D™ titles from Sony Pictures Home Entertainment," said SPHE worldwide president David Bishop. "We drove the industry in Blu-ray adoption and are now leading the way with compelling 3D content for the home
.
The addition of 3D showcases the versatility of Blu-ray and further demonstrates why it is being adopted by the mainstream as the home entertainment format of choice."
The animated hit,
C
loudy With a Chance of Meatballs
will be available on Blu-ray 3D™, bundled with select Sony Electronics 3D televisions and Blu-ray players, and will be sold separately at select retailers for an RRP of £24.99.
The
C
loudy With a Chance of Meatballs
Blu-ray 3D™ was mastered at Colorworks and authored at Sony Digital Authoring Center (DAC).
Cloudy With a Chance of Meatballs
Synopsis:
When Flint Lockwood's (Bill Hader) latest contraption accidentally destroys the town square and rockets up into the clouds, he thinks his inventing career is over. Then, something amazing happens as delicious cheeseburgers start raining from the sky. His machine actually works! But when people greedily ask for more and more food, the machine starts to run amok, unleashing spaghetti tornadoes and giant meatballs that threaten the world! Now it's up to Flint with the help of weather girl Sam Sparks (Anna Faris) and Steve, his talking monkey assistant, to find some way to shut down the machine before the world is covered in super-sized meatballs!
Written and Directed by Phil Lord & Christopher Miller,
Cloudy With a Chance of Meatballs
was based on the bestselling book by Judi Barrett and illustrated by Ron Barrett. The film was produced by Pam Marsden.
Cloudy With a Chance of Meatballs
has a running time of approximately 90 minutes and is rated PG for brief mild language. Artwork and 2D digital clips are available for download at
www.sphepublicity.com
. Visit Sony Home Entertainment on the Web at
www.SonyPictures.com.uk
.
About Sony Pictures Animation
Sony Pictures Animation exemplifies the next generation of CGI storytelling to produce a variety of animated entertainment for audiences around the world. Sony Pictures Animation produces a full slate of films including the mouth-watering 3D comedy CLOUDY WITH A CHANCE OF MEATBALLS, which opened as the #1 movie in North America on September 18 and has grossed more than $230 million worldwide, HOTEL TRANSYLVANIA, now in pre-production, THE SMURFS, now in production with Columbia Pictures, and two films from Aardman Animations, ARTHUR CHRISTMAS and PIRATES!. In 2007, SURF'S UP, was nominated for an Academy Award® for Best Animated Feature and won two Annie Awards. The company's first film, OPEN SEASON, was a box office success and the #2 DVD title of the year for Sony Pictures Home Entertainment. Its sequel, OPEN SEASON 2, released in 2009, was an international family hit and a new OPEN SEASON 3 is now in production. Sony Pictures Animation is an operating unit of Sony Pictures Digital Productions.
About Sony Pictures Home Entertainment
Sony Pictures Home Entertainment is a Sony Pictures Entertainment company. SPE is a division of Sony Corporation of America, a subsidiary of Tokyo-based Sony Corporation. SPE's global operations encompass motion picture production and distribution; television production and distribution; digital content creation and distribution; worldwide channel investments; home entertainment acquisition and distribution; operation of studio facilities; development of new entertainment products, services and technologies; and distribution of filmed entertainment in more than 100 countries. Sony Pictures Entertainment can be found on the World Wide Web at
www.sonypictures.com
. For more info on Blu-ray Disc™, visit
www.sonypictures.com/bluray
.