Bruce Lee documentary The Immortal Dragon hits DVD in May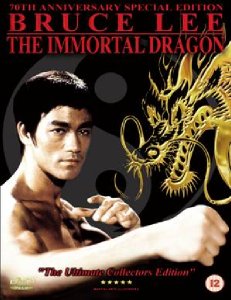 70TH ANNIVERSARY SPECIAL EDITION
BRUCE LEE
THE IMMORTAL DRAGON
RELEASED ON DVD 3rd May 2010
This Year Marks the 70th Anniversary of Bruce Lee's Birth
This authorised Biography of Bruce Lee is the most comprehensive and well rounded to date. With great attention to detail, this documentary uses rare home movies, action-packed film clips, behind the scenes footage, screen tests and photographs from the Lee family archives to tell the remarkable life-story of Bruce Lee and his tremendous success as an unparalleled martial artist as well as an international film celebrity. Includes interviews with Lee's family members, co-stars, business partners and students.
"The Ultimate Bruce Lee Collection - a MUST HAVE for any Bruce Lee fan"
★★★★★
Andrew J Staton - Martial Arts Illustrated Magazine
EXCLUSIVE DVD EXTRAS
· Full-length version of Bruce Lee's first screen test
· Two full-length screen tests for Green Hornet
· Green Hornet special feature.
· Green Hornet promos, out takes and trims.
· Profiles of Bruce Lee, family and friends.
· The original 1966 Batman script A Piece Of The Action / Batman's
· Satisfaction (the crossover episodes in which Bruce Lee appears).
· History of Bruce Lee's martial art Jeet Kune Do (The Way Of The Intercepting Fist)
· RUN TIME: 90 mins
· CERT: 12
· CAT NO: STX2358
· BARCODE: 5055019503689
· RRP: £9.99