First season of TV family drama Heartland hits DVD in April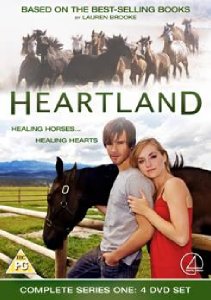 HEARTLAND - THE COMPLETE FIRST SEASON
4 DVD SET
ON DVD 26th April 2010
THE HIT FAMILY SERIES ON CHANNEL 4: E4
Based on the Best-Selling Books
by Lauren Brooke (6.5 million copies sold worldwide)
A Family Ranch… A Horse Whisperer… A Fight to Save a Dream...
Adapted from Lauren Brooke's best-selling novels (6.5 million copies worldwide),
Heartland
is a family drama series set in the fictional town of Hudson located in the foothills of the Rocky Mountains. Heartland is a place like no other; a horse ranch with a special mission of healing abused or neglected horses and finding them new homes. 
The series follows the Fleming family - Grandpa Jack,
(Shaun Johnston),
15-year-old Amy
(Amber Marshall)
and 20-something older sister Lou
(Michelle Morgan)
- as they deal with the ups and downs of running a ranch that's been in the family for generations but is now so deep in debt they're one bank payment away from losing it all. After the sudden death of their mother, the girls' lives change forever. 
Lou reluctantly returns home from her high-powered job in New York to take over the business of the ranch - this is not what she planned for her life. Amy realizes she has inherited her mother's special horse whispering gift and is determined to keep her mother's dream alive by keeping Heartland as a horse rescue centre
AWARDS:
2009 ALBERTA FILM AND TELEVISION AWARDS (The Rosies)
Winner: Best Screenwriter, Drama Over 30 - Mark Haroun
2008 ALBERTA FILM AND TELEVISION AWARDS (The Rosies)
Winner: Best Dramatic Series
Winner: Best Director, Drama - Dean Bennett
CAST:
Amber Marshall / Michelle Morgan / Shaun Johnston / Chris Potter / Graham Wardle / Jessica Amlee
and
Nathaniel Arcand
EPISODES:
Season 1
PILOT - Coming Home
EP. 2 - After the Storm
EP. 3 - Breaking Free
EP. 4 - Taking Chances
EP. 5 - The Best Laid Plans
EP. 6 - One Trick Pony
EP. 7 - Come What May
EP. 8 - Out of The Darkness
EP. 9 - Ghost From the Past
EP. 10 - Born to Run
EP. 11 - Thicker Than Water
EP. 12 - Rising from the Ashes
EP. 13 - Coming Together
Running Time: 585 MINS
Certificate: PG TBC
Cat No: DIG3807
Barcode: 5034741380713
Price: £29.99  
SPECIAL FEATURES:
Behind-the-Scenes Featurettes (including extensive interviews with the cast and crew)