British comedy Laxdale Hall out in April on DVD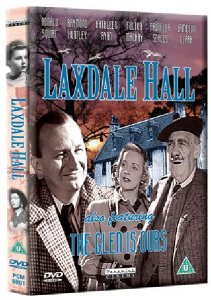 Panamint Cinema are
proud to announce
Laxdale Hall
Available to own on DVD from 5th April 2010
Also featuring the classic documentary 'The Glen Is Ours' 
'Laxdale Hall' is a rarely seen British comedy classic receiving its first time release on DVD
Starring Raymond Huntley (
The Pure Hell of St. Trinian's)
Prunella Scales (BBC's Fawlty Towers) in her first ever screen appearance & Fulton Mackay (BBC's Porridge)
Also starring in his first screen appearance the
Legendary Rikki Fulton
SYNOPSIS
'Laxdale Hall', a rarely seen British comedy, receiving its first release for home entertainment, is a 1952 gem about disquiet in a remote Highland community. The few residents of Laxdale who own cars are refusing to pay their road fund licence because of the poor state of the only road which links them to the rest of Scotland. A parliamentary delegation including Samuel Pettigrew, M.P (Raymond Huntley, Barnaby Rudge & Hancock Half Hour) and Andrew Flett (Fulton Mackay) is dispatched to the Scottish Highland to quell the rebellion! Along the way they encounter resistance from school teacher Morag McLeod (Prunella Scales, in her first film) and her roguish dad, Roderick McLeod (Jameson Clark). With a brief appearance by Rikki Futton in his film debut as a salmon poacher there's plenty of action and laughter.  Filmed amongst the beautiful scenery of Applecross, 'Laxdale Hall' is not too missed. 
DVD EXTRAS
'The Glen is Ours'
The Classic documentary, 'The Glen Is Ours' (1946) with Ealing stalwarts Edie Martin and Anthony Baird, is a timeless parable of politicians at odds with their electorate. Recently de-mobbed Hector Andrews takes to the hustings to stop Cadisburn Glen being converted from a beauty spot into an amusement park. 
DVD CONTENTS
Includes a booklet about the making of 'Laxdale Hall' written by Brian Pendreigh
DVD DETAILS
Cat no:            PCM6001
Barcode:        5039256260017
Running time: 'Laxdale Hall' 75mins
Running time: 'The Glen Is Ours' 30mins
Certificate:      U
Price                £15.99
Discs             1
Aspect Ratio: 1.33
Laxdale Hall
is distributed by Panamint Cinema and is available from
www.panamint.co.uk
on the 5th April 2010.