Edifier launches new M3300SF multimedia speakers
Compact multimedia 2.1 speaker with stylish, glossy flat panel satellites for impressive sound. Perfect for gaming, watching films or listening to music.
Edifier
, a supplier of speaker systems supporting state-of-the-art design and extraordinary sound quality, continues to consolidate its position as a leader in the manufacture of high quality, multimedia speaker systems with the launch of the M3300SF.
The M3300SF is a compact multimedia 2.1 speaker system. Super sleek, flat panel 2 way satellites are combined with a powerful 6.5" subwoofer making the new Edifier M3300SF an impressive performer. The wired remote control includes a mute feature with a built in headphone jack - perfect for late night gaming & music sessions. 
The Edifier M3300SF produces a vivid, accurate sound - whether it is used for gaming, watching films, or listening to music - providing an exceptional entertainment experience. Available at £59.99 inc, this would be a great addition to any home.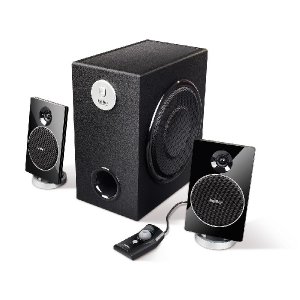 Features:
Super-flat 2-way diver flat panel satellite design
Ported wooden subwoofer enclosure
6.5" side-firing subwoofer
Wired remote control with volume, mute, line-in, headphone jack and LED power indicator
Aux-in jack for additional source input
Magnetically shielded drivers

Specifications:
Power output: RMS 30W + 2 x 12W
Signal to noise ration: ≥85dBA
Channel Separation: R/L ≥45dB
System Frequency Response: R/L: 150Hz ~ 20KHz, SW: 20Hz ~ 150Hz
Input Sensitivity: R/L 450mV +/- 50mV, SW: 90mV +/- 10mV
Input Impedance: 10k Ohm
Input Type: 3.5mm stereo line in
Bass Unit: 6.5" woofer, magnetically shielded, 4 Ohm
Tweeter Unit: 10mm, magnetically shielded, 4 Ohm
Gross Weight: Approx 8.3kg

Price and Availability:
The M3300SF is available at SRP £59.99 inc and is in stock now at 
Scan.co.uk