Erotic Thriller The Human Contract out in February on DVD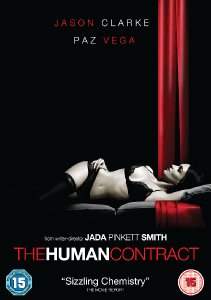 FROM WRITER-DIRECTOR JADA PINKETT SMITH
Written and directed by, and starring,
Jada Pinkett Smith
(The Women; Collateral),
The Human Contract
is an erotic thriller in which a businessmen about to make the biggest deal of his career has his life turned upside down when he meets a beautiful stranger.
Corporate player Julian Wright (Jason Clarke) is a charming and mega-successful businessman who hides a secret from the rest of the world, which tears him about every day. Whiles he stands on the verge of the deal of his career, his life crosses paths with a woman (Paz Vega) who will tun his world upside down triggering emotions Julian never knew he had.
As he pursues her in a dangerous game of seduction, he is forced to confront his past. Ultimately, Julian must face the dark family secrets that continue to haunt him and his troubled sister (Jada Pinkett Smith).
Ted Danson (Damages), Idris Elba (The Wire) and Paz Vega (Spanglish; Sex And Lucia) co-star in this sophisticated, stylish and suspenseful film, which was executive produced by Jada Pinkett Smith's husband Will Smith.
The Human Contract
(cert 15) will be released on DVD (£12.99) by
High Fliers Films
on
22nd February 2010
.