Continous shot horror Cut out in February on DVD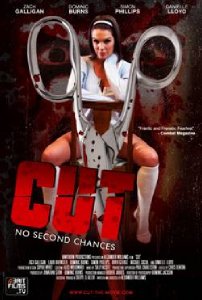 A worldwide first in the horror genre!  A terrifying, shock filled suspense horror, filmed in one continuous shot!
Five friends return home from a cocktail party to their cottage deep inside the woods of the Peak District.  Having rubbished the notion of urban legends our main characters find themselves weaving through the nightmare reality of their very own horror story!
'Cut' is a claustrophobic thrill ride only relenting on its increasingly unbearable tension and heart stopping shocks to inject a little humour to soften the blow and increase the fun!
Because the film takes place in a single continuous shot the audience feel more connected to the action that ever before- there is no escape! This filming concept creates an incredibly exciting, uniquely terrifying, experience, never before witnessed in a horror film. 
The film stars Zach Galligan ('Gremlins') as well as a host of up and coming talent including Danielle Lloyd, Simon Philips ('Jack Said') and Michael Socha ('Dogging: A Love Story').