Winter in Wartime out in Cinemas this February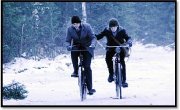 WINTER IN WARTIME
In Cinemas 12th February 2010
A Film by
Martin Koolhoven
January 1945. During the last winter of World War II, Nazi occupied Holland lies under a blanket of snow.  Food is scarce with many people heading east in a desperate attempt to find sustenance for their families. 
Living in a village near the town of Zwolle is 13 year old Michiel (Martijn Lakemeier). Defiant in his hatred for the Nazis, he is eager to do something for the growing underground Resistance. His father, however, is anxious for Michiel to stay out of trouble. As mayor of the village, he must do all he can to keep the fragile peace in tact and is not prepared to take any risks. Meanwhile, Michiel's beloved Uncle Ben - a Resistance fighter and strong critic of his father - warns against getting involved in "grown up" business. 
Michiel's chance to prove himself arrives when neighbour Dirk asks him to deliver an envelope on behalf of the Resistance.  But Dirk is caught soon after and Michiel witnesses the shooting of the intended recipient by German soldiers. 
Inside the envelope Michiel finds a map of nearby woods, leading him to a secret foxhole where wounded English pilot, Jack (Jamie Campbell Bower), is hiding in fear of his life. At first mistrustful, Jack eventually realises he has no one else to rely on. He must escape and only Michiel can help. 
Soon Michiel discovers how precious trust is and how close together good and evil can sit side by side without anyone ever noticing. He also learns that to become a man, he must abandon childish beliefs and face the truth head on.