Whiteout - Watch the Film But Don¹t Feel the Cold this January on DVD and Blu-ray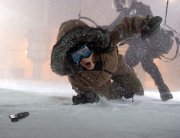 From the producers of
The Matrix Trilogy, Lethal Weapon


WHITEOUT

Starring Kate Beckinsale, Gabriel Macht
& Tom Skerritt

From the graphic novel by Greg Rucka & Steve Leiber

Directed by Dominic Sena, Produced by Joel Silver

Out To Rent on Friday 9th January 2010
Own On DVD, Blu-ray & EST 25th January 2010


Antarctica. The most isolated landmass on earth. Six million square miles of ice. Six months of darkness. Temperatures at minus 120 degrees and winds at 100 miles per hour. For U.S. Marshal Carrie Stetko, (Kate Beckinsale,
Underworld, Van Helsing, The Aviator
) things are about to get even more dangerous. During the last 3 days of her assignment, as the complete closure of the base for Winter approaches, she is sent to investigate a body on the ice.  Antarctica's first ever murder.  A shocking discovery in itself, it will plunge her into an even more bizarre mystery and the revelation of secrets long-buried under the endless ice…secrets that someone believes are still worth killing for. As Stetko races to find the killer before he finds her, winter is already closing in. In the deadly Antarctic whiteout, she won't see him till he's a breath away.  
Extras:
Whiteout: The Coldest Thriller Ever featurette / Whiteout: From Page to Screen featurette / Deleted Scenes / Trailer  
Tech specs: Cert: 15  / Feature Running Time:  96 mins approx / Region 2
Feature Aspect Ratio: 2.35:1 / Colour PAL / Audio: Dolby Digital 5.1 / English Language / Cat No: OPTD1674 / RRP: £15.99