Perfect Life out 1st February on DVD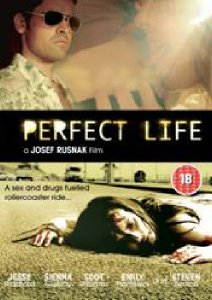 PERFECT LIFE
RELEASED ON DVD 1ST FEBRUARY 2010
Directed by:
Josef Rusnak
Starring:
Jesse Bradford - FLAGS OF OUR FATHERS, THE WEST WING, ROMEO & JULIET
Sienna Guillory - ERAGON, RESIDENT EVIL: APOCALYPSE
Scot Williams - DEAD MAN RUNNING
A sex and drugs fuelled rollercoaster ride...
Jack Parsons (
Jesse Bradford
) grew up in poverty while suffering through childhood at the hands of an abusive, alcoholic father. Jack's brother-like bond with his wealthy neighbour Freddy (
Scot Williams
), and his secret love for Anne (
Sienna Guillory
) the neighbourhood beauty, were all that made life tolerable. 
Now at college, Jack attacks life with a vengeance. Fuelled by narcotics, alcohol, and a "can't lose philosophy", he runs with the popular crowd, pledges the school's most exclusive fraternity, and continues to pine for Anne even though he knows Freddy loves her. 
The drugs, booze, and death defying initiation process cannot stop Jack, but a series of devastating blackouts that force him to question reality stagger Jack like a backhand smack from his old man and threaten to end his perfect life.
DVD DETAILS:
Running Time: 97 minutes
Cert: 18
RRP: £12.99
Cat No: CENTD0001
Barcode: 5060221830003
SPECIAL FEATURES:
Theatrical Trailer