Harry Potter and the Half-Blood Prince DVD is Fastest Selling of 2009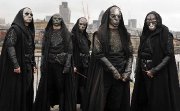 HARRY POTTER AND THE HALF-BLOOD
PRINCE
BREAKS 2009 FIRST DAY DVD SALES RECORD TO BECOME
FASTEST-SELLING DVD OF THE YEAR
Title was released day-and-date on DVD, Blu-ray, EST (Electronic Sell-Through) and VOD (Video on Demand) in the U.K. and Ireland
London, 9th December 2009:
Harry Potter and the Half-Blood Prince
™ has cast its spell over the UK once again with record-breaking first day sales to make it the fastest-selling DVD and Blu-ray release of 2009. 
An incredible 840,000 units were sold on its first day, 53,000 of which were Blu-ray, in turn delivering the high definition format's biggest first day ever for a family entertainment release. In addition, the movie, which was released day and date on DVD, Blu-ray, electronic sell-through (EST) and video-on demand (VOD), is currently the number 1 selling movie download on iTunes. 
John Stanley, Managing Director, Warner Home Video U.K. today commented, "We're delighted by the extraordinary first day sales performance of
Harry Potter and the Half-Blood Prince
. By making the biggest movie of the year available on the same day across DVD, Blu-ray, EST and VOD, we are satisfying the needs of today's consumers and ensuring they see what they want, how, where and when they want it." 
Supporting the DVD and Blu-ray releases, special personal appearances from cast members of Harry Potter and the Half-Blood Prince™ took place at HMV in Oxford Street where they signed copies of the Blu-ray edition of the film and were greeted by huge crowds. UK Fans who bought the Blu-ray edition will also be able to take part in the first ever worldwide* Live Community Screening (LCS). Taking place on December 12th, the LCS will allow BD-Live capable Blu-ray users to simultaneously watch the movie together with Daniel Radcliffe and director David Yates while putting questions to them directly from their home.
In
Harry Potter and the Half-Blood Prince
™, Voldemort tightens his grip on Hogwarts as Harry and Dumbledore work to find the key to unlock the Dark Lord's defenses.  But the students are under attack from a very different adversary—teenage hormones.  Love is in the air, but tragedy lies ahead and Hogwarts may never be the same again.   
Todd Philips' hit comedy
The Hangover
was also released yesterday day-and-date on DVD, Blu-ray, EST and VOD by Warner Home Video and has become the biggest comedy of the year with total day 1 sales in the UK of 138K. 
**  BD-Live connectivity is only available in Australia, Belgium, Brazil, Canada, Denmark, Finland, France, Germany, Italy, Japan, Mexico, Netherlands, Norway, Spain, Sweden, United Kingdom and United States.