Anime Review Roundup
Gantz: The Movie(s)
The summer drought of anime news seems to be over, and juicy titbits of gossip are beginning to ooze out of the industry again. We must be getting close to convention season. We begin with the
announcement that Gantz
is going to be turned into two live action films. I reviewed this title in anime form for the site a few years back, and was impressed by its gory Big Brother premise, which saw dead people reincarnated so that they could go and hunt aliens. It was bloody, it was gory, it was edgy and profane, although let down a little in the execution, and not helped by the fact that the manga wasn't finished. The manga still isn't finished, but the author Hiroya Oka has started the Final Phase, and with more of the manga story there to adapt, this may prove to be the next Battle Royale. Source:
ANN
Endless Eight: The Movie
Just kidding! No really, it isn't going to happen. That was a hell of a polarising summer, as the eagerly awaited second Haruhi Suzumiya series finally arrived, only for eight successive episodes to go Groundhog Day on us. The battle lines were drawn, pro Endless Eight supporters faced off against anti Endless Eight supporters, and the flame wars began. Even a
foul-mouthed Hitler
had an opinion. If there is one thing KyoAni is good at, it's grabbing the attention of its fans. They did it once more when the recent run of Haruhi repeats finally ended a week or so ago, using the final episode to announce the forthcoming
Disappearance of Haruhi Suzumiya
feature film. That's a good thing, right?
Anime News Network
with the story again.
Vampire Knight coming to the UK
The eagle-eyed Anime UK News spotted that
Viz have licensed the Vampire Knight
series for UK distribution. It's one of those news stories you expect at the Expo, but somehow always leaks out ahead of time, just the get the buzz flowing.
VAMPIRE KNIGHT is based on the best-selling gothic-romance manga series created by Matsuri Hino. Cross Academy is attended by two groups of students: the Day Class and the Night Class. At twilight, when the students of the Day Class return to their dorm, they cross paths with the Night Class on their way to school. Yuki Cross and Zero Kiryu are the Guardians of the school, protecting the Day Class from the Academy's dark secret: the Night Class is full of vampires!
Viz usually release in the UK through Manga Entertainment, so it's there you should direct your attention for further announcements.
Beez Bargains at the Expo
Speaking of the MCM Expo later this month, Beez are dropping a few juicy hints about the stock you'll be able to snatch up if you are hasty enough, at very attractive prices significantly below retail. It helps to know how much money you'll need in your wallet before you go in (usually all of it). They've got a list of prices on the
Anime UK News Forums
, and the new Cowboy Bebop Remix set at £25 is a price that you simply cannot ignore.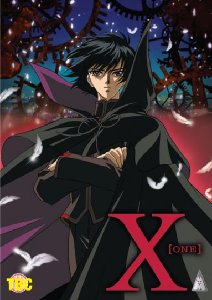 We've had X: The Movie in UK shops for a long time now, in fact it's one of the few anime titles that graduated from VHS to DVD in the early days of the format. But it's taken a long while for the television series to come here, and it was with some trepidation that I took a look at the first volume early last week. It's my own fault, as I really shouldn't have seen the movie first. X is a supernatural, millennial apocalypse thriller, created by CLAMP back in the nineties, although a little late to animation in 2001. The end of the world is nigh, the Dragons of Heaven face off against the Dragons of Earth, and the fate of humanity rests in the hands of one man, Kamui Shiro. See how much better this is than the movie by clicking on the link for
X: Volume 1
.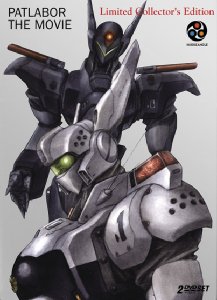 Ghost in the Shell is coming… again… and as I look forward to watching one of my favourite anime movies for the tenth time, I realise that I need something fresh and different to give me a new perspective on things. So I've decided to build up to Ghost in the Shell by revisiting a couple of Mamoru Oshii's earlier works, and this week I start with
Patlabor The Movie: Limited Collector's Edition
. It's got giant robots piloted by humans, it's got a sci-fi, cyberpunk edge, it's got philosophically motivated terrorists, it's got a brave police force trying to save the city, it's got politics, and it's got comedy. Point and click!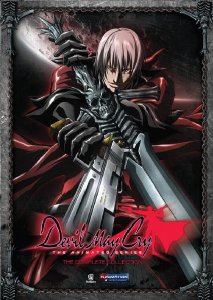 You might want a little spookiness this time of year, something to do with Halloween I guess, and
Devil May Cry
will be right up your alley. It's based on the series of console games, and sees half-demon Dante running a business as a demon hunter, keeping the human realm free of supernatural beasties in an attempt to pay off his substantial debt to fellow hunter Lady. Then little orphan Patty moves in. It's fun, exciting, action packed and entertaining, and it will be available on Blu-ray as well as DVD. If you want to know more, you can always read my review.
Beez Entertainment released Patlabor The Movie a couple of years ago, and you should really look around for it now, as it's selling for even fewer peanuts than I paid for it. MVM release X: Volume 1, and Manga Entertainment release Devil May Cry, both on the 19th of October.